Red Bull Racing's Sebastian Vettel Friday set the fastest time of the day around Autodromo di Monza, home of the 2013 Italian Grand Prix.
Briton Lewis Hamilton set the fastest time in the morning session with a 1m25.565 in his Mercedes fitted with a revised low-dowforce package.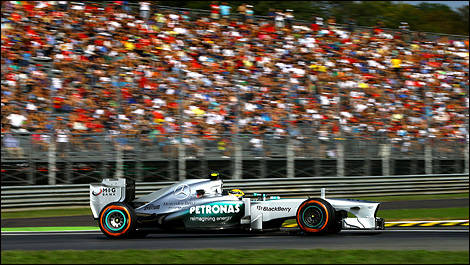 Lewis Hamilton, Mercedes AMG, Monza 2013. (Photo: WRi2)
Fernando Alonso ranked second in his Ferrari, almost half a second slower than Hamilton.
During this session, Jenson Button's McLaren suffered a problem with the DRS not shutting as quickly as expected, triggering a stewards' investigation into unauthorised use of the device. He ranked 7th overall.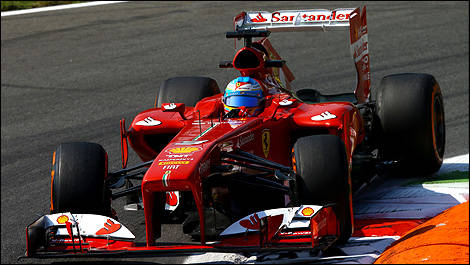 Fernando Alonso, Ferrari, Monza 2013. (Photo: WRi2)
Nico Hulkenberg was third in his Force-India, followed by Kimi Raikkonen (Lotus) and Sergio Perez (McLaren).
In the afternoon session, point standings' leader, Sebastian Vettel, went fastest with a 1m24.453 in his Renault-powered Red Bull. Vettel's pace on his long runs was also impressive.
His teammate, Mark Webber, finished in second place in front of the Lotus drivers, Kimi Raikkonen (in the long wheelbase E21) and Romain Grosjean (in the standard E21) on equal time, 1m15.116.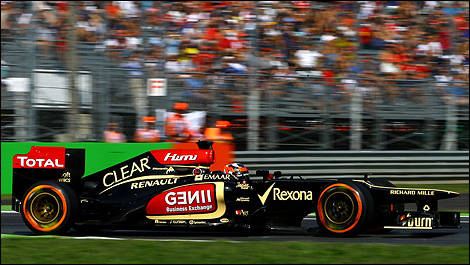 Kimi Raikkonen, Lotus long wheelbase, Monza 2013. (Photo: WRi2)
Alonso was fifth in the best of the Ferraris. The Spaniard had a brief trip through the Parabolica gravel trap during the session.
Hamilton was sixth in front of Hulkenberg, Felipe Massa in the second Ferrari, and the McLaren drivers, Button and Perez.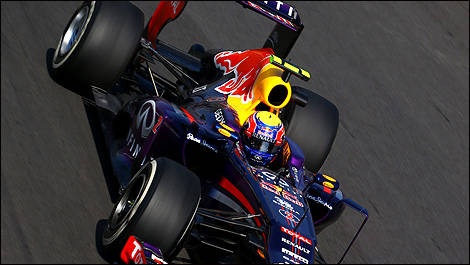 Mark Webber, Red Bull, Monza 2013. (Photo: WRi2)
2013 Italian Grand Prix, Monza, 1st free practice session*:

1 - Lewis Hamilton (Mercedes W04) - 1'25"565
2 - Fernando Alonso (Ferrari F138) - 1'25"600
3 - Nico Hulkenberg (Sauber C32-Ferrari) - 1'25"704
4 - Sebastian Vettel (Red Bull RB9-Renault) - 1'25"753
5 - Kimi Raikkonen (Lotus E21-Renault) - 1'25"941
6 - Sergio Perez (McLaren MP4-28-Mercedes) - 1'26"007
7 - Jenson Button (McLaren MP4-28-Mercedes) - 1'26"035
8 - Mark Webber (Red Bull RB9-Renault) - 1'26"103
9 - Pastor Maldonado (Williams FW35-Renault) - 1'26"149
10 - Jean-Eric Vergne (Toro Rosso STR8-Ferrari) - 1'26"155
11 - Esteban Gutierrez (Sauber C32-Ferrari) - 1'26"194
12 - Romain Grosjean (Lotus E21-Renault) - 1'26"295
13 - Daniel Ricciardo (Toro Rosso STR8-Ferrari) - 1'26"387
14 - Felipe Massa (Ferrari F138) - 1'26"449
15 - Paul Di Resta (Force India VJM06-Mercedes) - 1'26"594
16 - Valtteri Bottas (Williams FW35-Renault) - 1'26"802
17 - James Calado (Force India VJM06-Mercedes) - 1'27"041
18 - Nico Hulkenberg (Sauber C32-Ferrari) - 1'27"224
19 - Charles Pic (Caterham CT03-Renault) - 1'27"818
20 - Max Chilton (Marussia MR02-Cosworth) - 1'27"869
21 - Heikki Kovalainen (Caterham CT03-Renault) - 1'28"192
22 - Rodolfo Gonzalez (Marussia MR02-Cosworth) - 1'29"526
Sebastian Vettel, Red Bull, Monza 2013. (Photo: WRi2)
2013 Italian Grand Prix, Monza, 2nd free practice session*:

1 - Sebastian Vettel (Red Bull RB9-Renault) - 1'24"453
2 - Mark Webber (Red Bull RB9-Renault) - 1'25"076
3 - Kimi Raikkonen (Lotus E21-Renault) - 1'25"116
4 - Romain Grosjean (Lotus E21-Renault) - 1'25"116
5 - Fernando Alonso (Ferrari F138) - 1'25"330
6 - Lewis Hamilton (Mercedes W04) - 1'25"340
7 - Nico Hulkenberg (Sauber C32-Ferrari) - 1'25"367
8 - Felipe Massa (Ferrari F138) - 1'25"519
9 - Jenson Button (McLaren MP4-28-Mercedes) - 1'25"532
10 - Sergio Perez (McLaren MP4-28-Mercedes) - 1'25"627
11 - Paul Di Resta (Force India VJM06-Mercedes) - 1'25"830
12 - Esteban Gutierrez (Sauber C32-Ferrari) - 1'25"888
13 - Adrian Sutil (Force India VJM06-Mercedes) - 1'26"028
14 - Pastor Maldonado (Williams FW35-Renault) - 1'26"138
15 - Jean-Eric Vergne (Toro Rosso STR8-Ferrari) - 1'26"224
16 - Nico Hulkenberg (Sauber C32-Ferrari) - 1'26"385
17 - Daniel Ricciardo (Toro Rosso STR8-Ferrari) - 1'26"599
18 - Valtteri Bottas (Williams FW35-Renault) - 1'27"198
19 - Max Chilton (Marussia MR02-Cosworth) - 1'27"548
20 - Charles Pic (Caterham CT03-Renault) - 1'27"696
21 - Giedo Van der Garde (Caterham CT03-Renault) - 1'27"771
22 - Jules Bianchi (Force India VJM06-Mercedes) - 1'28"057
* Unofficial timing