From GMM
Jacques Villeneuve makes comments designed deliberately to trigger sensational headlines.
That is the claim of Oskari Saari, a commentator for the Finnish broadcaster
MTV3
who says he knows the 1997 world champion well.
"Jacques is a great guy," he said. "I always like to see him because I like to argue with him! He is always in a happy and positive mood when I see him."
Former Williams and Honda driver Villeneuve is now a regular television pundit for
Sky Italia
, but he also makes regular print headlines with his biting observations.
Recently, he added fuel to the silly-season by suggesting Lewis Hamilton and Sebastian Vettel are on the move, and after Hungary accused Nico Rosberg of trying to "destroy Lewis' race".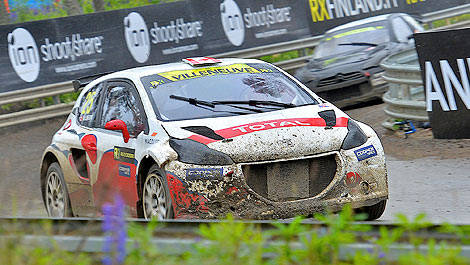 Jacques Villeneuve drives in the FIA World Rallycross Championship in 2014. (Photo: Albatec Racing)
MTV3
's Saari thinks he has figured Villeneuve out.
"Last season he criticised Valtteri Bottas heavily," he said, referring to the young Finn who in a competitive Williams has emerged in 2014 as a true star.
"Last weekend I asked Villeneuve about that and he admitted that this year is going a little more smoothly for Bottas than last year! I have the feeling that Villeneuve throws these things out there just for fun, just for the colour of the stories and for the headlines," Oskari Saari charged.