Canadian Jacques Villeneuve, the 1997 Formula 1 World Champion with Williams-Renault, said F1 must change its safety car protocol following the terrible crash of Jules Bianchi Sunday in Japan.
In pouring rain, Adrian Sutil lost control of his Sauber, and hit the tire barriers. A heavy tractor was sent out to recover the stricken Sauber, but Jules Bianchi lost control of his Marussia and hit the tractor.
The Canadian claims the safety car should have been deployed as soon as Sutil's car needed recovering.
"The rules have to be changed concerning the safety car," said the former winner of the Indy 500.
"When I was racing, and afterwards, I was always saying that any time there is an accident there should be a safety car.
"There should not be room for judgement. If someone has to go out to pick up a car stranded on the track, it's simple.
"Accident means safety car, and that's it. It should have been like that for years. America has had that forever."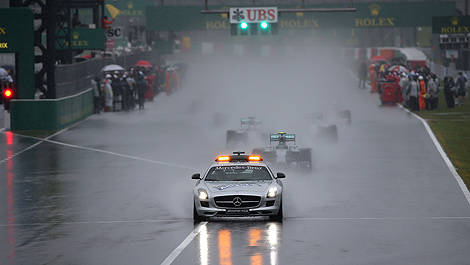 Safety car at the start of the Japanese Grand Prix. (Photo: WRi2)
The son of the late Gilles Villeneuve thinks that critics who feel races are neutralised too often are wrong, and that the risk of another car colliding with a stationary vehicle is too high to cover such situations off with yellow flags.
"The problem now is every time the FIA send the safety car out all the media and fans complain, saying they destroyed the race," he added.
"So now they second-guess themselves. It's a lose-lose situation.
"Yes, sometimes it does slow the race down a bit, but at least you avoid cases like today, and you avoid the human aspect of having to make a decision.
"Whenever I was racing, if I had a crash I was always worried about another car crashing into me.
"I never really like just having yellow flags. You do slow down, but how much? And you could have a puncture, or a suspension failure.
"I'm amazed something like this has never happened before. I think we've just been lucky before.
"Quite often people spin when other cars have spun and they just miss them by inches."