Formula Renault 3.5 champion, Kevin Magnussen will make his Formula 1 debut next year with McLaren, racing alongside veteran and former F1 World Champion, Jenson Button.
The 21-year-old Dane is gearing up for his maiden Grand Prix in Australia by spending the winter preparing with his engineers, mechanics and trainers at the McLaren Technology Centre in Woking.
"McLaren has been part of my life since I was a small kid," he said in an interview published by McLaren.
"My dad, Jan, was a test driver here and did one grand prix with the team back in 1995, but I've always dreamt about driving for McLaren. It'll be incredibly special to be in the car as a racing driver - with the Magnussen name on the side.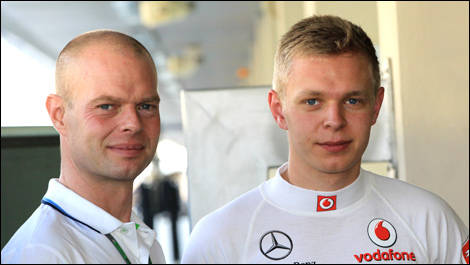 Jan and Kevin Magnussen, McLaren. (Photo: WRi2)
"Now that I've got the race seat, I'm fully focused on the work ahead of me. This winter will be all about preparing myself for the first test in January, and the first race in March. It's about spending time with the engineers, driving the simulator, and getting used to everything. It's a lot of hard work - but I'm really enjoying it."
The winter will be equally intense for everyone at McLaren - the far-reaching technical changes mean the sport is virtually re-inventing itself for 2014, so the search for performance - from both the chassis and the powertrain - is as deep as it is wide.
Despite the 2014 regulations' complexity, Magnussen feels the clean sweep ought to give him an easier ride than if he were jumping into F1 during a period of established regulations.
"It'll be a new challenge for everyone, not just for me," he says.
"Everyone's going to have to learn about the 2014 cars - not just myself. It's a good year to come into F1. The fact that I won't have as much experience as some of the other drivers actually counts a little bit less - of course, it's still going to require a lot of hard work - and I'll have a lot to learn - but so will everyone else, so that's a positive for me."
Magnussen looks forward to working with Jenson Button.
"I'm sure working with Jenson will be beneficial," he says. "He's a world champion, he's the most experienced driver in F1 and I'll be able to learn from him; I'll be sat next to him in debriefs at every race next year, listening to what he says and watching him work with the team. He'll be a great guy from whom to learn," Magnussen said.