From Lotus F1 Team
Lotus F1 Team welcomes Dubai-based residential and commercial property investment company Emaar Properties to its portfolio of partners, in a new two-year deal commencing from the Italian Grand Prix.
Emaar's portfolio includes such notable properties as The Dubai Mall and Burj Khalifa; the world's tallest building.
As Official Partner to Lotus F1 Team, Emaar will enjoy a presence on the team's E21 car in addition to a range of other Lotus F1 Team marketing collateral. This new relationship builds on the team's recent partnerships with brands such as Microsoft, Unilever [Clear and Rexona] and The Coca-Cola Company [burn].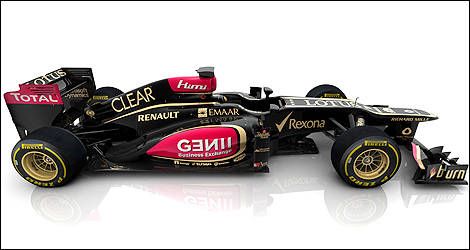 Photo: Lotus F1 Team
"We are delighted to begin this new relationship with Emaar Properties; particularly as the UAE has been a fruitful location for us on track with Kimi Räikkönen winning the 2012 Abu Dhabi Grand Prix.," said Eric Boullier, Team Principal, Lotus F1 Team.
"That victory truly confirmed that Lotus F1 Team as one of the foremost outfits in Formula 1 and we have continued our strong performances this season. With this new partnership with the developer of such iconic projects as Burj Khalifa and The Dubai Mall, we are looking forward to some home support as we race in the UAE once again this year. We are also very excited to see how this partnership will further enhance Lotus F1 Team's brand value," Boullier added.