From GMM
Luca di Montezemolo has ended the intense speculation about his future by announcing his departure as Ferrari's long-time president.
In a media statement on Wednesday, the 67-year-old said it is the "end of an era" for Ferrari ahead of the floatation of the Fiat-Chrysler group in New York.
"This will open up a new and different phase which I feel should be spearheaded by the CEO of the group," said Luca di Montezemolo, referring to Sergio Marchionne.
"Ferrari is the most wonderful company in the world," he added. "It has been a great privilege and honour to have been its leader."
UPDATE
Luca di Montezemolo said on Wednesday that taking on the chairmanship of Alitalia was a possibility but he would decide only after leaving Ferrari in October.
The CEO of UniCredit, one of the main shareholders of Alitalia, said Montezemolo would be a good candidate for the chairmanship of the Italian carrier.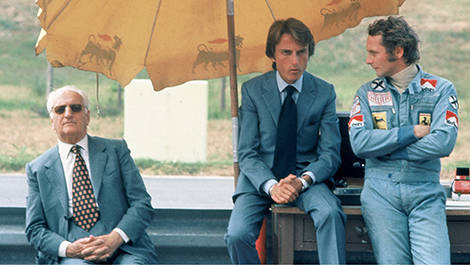 Enzo Ferrari, Luca di Montezemolo and Niki Lauda, Fiorano, 1974 (Photo: WRI2)