Netherlands' teenager Max Verstappen made history at Suzuka on Friday morning when he became the youngest driver to participate in an official Formula 1 Grand Prix weekend.
The son of former Grand Prix driver Jos Verstappen took over the driving duties of Jean-Eric Vergne's STR9 in free practice 1 of the Japanese Grand Prix.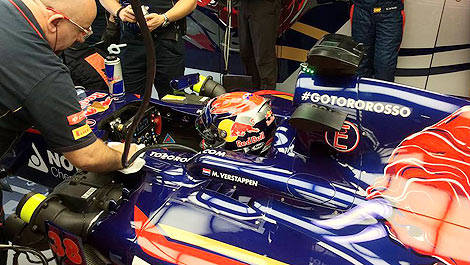 Max Verstappen getting ready. (Photo: ToroRosso.com)
Far from being intimidated by the occasion, Verstappen junior, who turned 17 just three days ago said it took him just a handful of laps to start bedding in with the STR9 - adding that he focussed purely on gaining experience rather than chasing headline-grabbing lap times.
"It took me two or three laps to get used to it of course, because I have never driven here before and this was my first time in this type of car," the Dutch said.
"But in a few laps you feel quite comfortable. It was quite allright - today was just getting used to the first bits of the car. The power and the engine impressed me really. Also the brakes, the steering - everything is completely different. The torque you have is quite a lot so you have to manage that with throttle application. I had to take some laps [to adjust] for that but I think at the end it wasn't not too bad".
Max Verstappen, Toro Rosso. (Photo: WRi2)
Max Verstappen finished his day's work with the 12th fastest time, just four tenths of a second slower than his Toro Rosso teammate, Daniil Kvyat.
"Honestly my feeling was that I was not pushing at all. For the whole session I was driving safe - I didn't want to crash, I just wanted to make laps and that's what I did. I think I was straight away quite okay with the pace, but I was just getting used to the car. I was building up pace and confidence lap by lap. Step by step I am learning everything - and step by step you can push more"," he explained.
Max event experienced a problem with the Renault power unit a one point.
"I saw some smoke coming out [the rear of the car] and I know what's happening then! You can't change it anyway, so I just stopped the car and walked back'" he explained.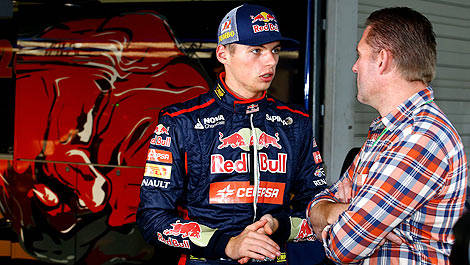 Max and Jos Verstappen in the Toro Rosso garage. (Photo: WRi2)
He also talked about his father Jos who was present in the garage.
"I think he was quite nervous and I was calm, so it was quite funny. We have done everything together, so if you accomplish something like this it's a great feeling. He has taught me a lot," Verstappen junior explained.