After a disappointing start to the 2014 Formula 1 season, McLaren bosses have decided to implement some staff changes in the various technical departments.
The team's new director of racing, Eric Boullier, and its chief executive officer, Jonathan Neale, sat down and reviewed the organization of McLaren F1.
British magazine
Autosport
writes May 2nd that the restructure involves the hiring of two new aerodynamicists, including former Sauber man Tony Salter and Guillaume Cattelani from Lotus.
These two engineers will help McLaren in the period before aerodynamic chief Peter Prodromou (formerly with Red Bull Racing) comes on board next year, and while the legal uncertainty remains over Dan Fallows (also from Red Bull Racing).
Changes are also being implemented to the way the team operates, with the Woking-based team set to put into action better chains of commands and clearer lines of communication.
"Once we have this leadership in place with clear strategy, then we have to make sure the communication flow within the company is maybe a little simpler to make it faster and better in the end," Boullier told Autosport.
"That will be key for me - the key point to drive this company back to success", the French engineer added.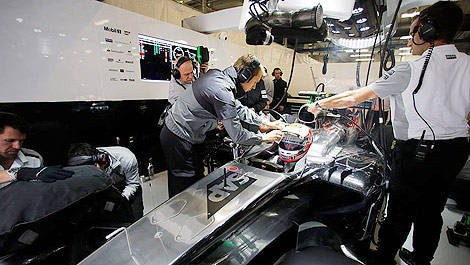 Photo: McLaren F1 Team