Sahara Force India and Nico Hulkenberg are enjoying a very good start to the 2014 Formula 1 season.
After four races, the Indian team lies third in the constructors' standings - ahead of the likes of McLaren and Ferrari.
Hulkenberg, who showed speed and consistency has scored points in every race so far and currently lies above reigning world champion Sebastian Vettel in the drivers' table.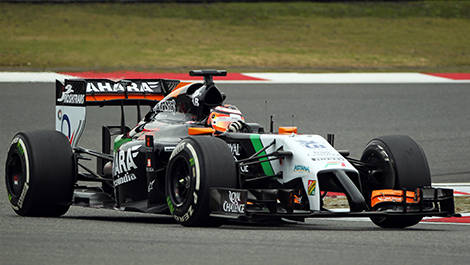 Nico Hulkenberg, Sahara Force India (Photo: Sahara Force India)
"Nobody really expected that, but such a position doesn't come out of the blue: on some occasions we've over-performed and whenever there has been an opportunity we've grabbed it and we've made it happen", Hulkenberg explained.
"We can explain why we are performing well, so it's a position that comes from our own merits. We have a good package, a strong engine partner, and we've made some good decisions and the right calls strategy-wise," he added.
Mercedes power
Seven of the top ten drivers in the standings drive Mercedes-powered cars. Is it all about the engine? How good is the Sahara Force India VJM07?
"It's a very good car; otherwise we wouldn't be where we are. Sure, you need a good engine package - and no doubt the Mercedes engine was the best package in the first four races - but no, not everything is down to the engine. You also need a good enough car to make such results happen.
Hulkenberg continued his explanation. "We have a good platform with the car that we have and now we have to work on the details to make it faster. But there is no night-and-day upgrade that we will have here in Barcelona. Of course there will be some aerodynamic parts as, like always, it's about the downforce".
Can Sahara Force India realistically fight against top teams like McLaren and Red Bull Racing?
"I would say that with the McLarens we pretty much should be able to compete throughout the season. With the Red Bulls we've seen a huge step forward from Bahrain to China already so it might be that they are in front of us already," he replied.
"Red Bull is probably the team with the biggest resources and financial power, so it is really hard to keep up with them. Our main focus is more on the Williams, McLaren, Sauber and Lotus side. If we can beat these guys it's really good - and if we have a really good day or weekend and we can annoy the big ones, even better," Hulkenberg concluded.