Two weeks after the infamous collision with his teammate Nico Rosberg at Spa-Francorchamps, Lewis Hamilton immediately set the pace around high-speed Monza on Friday morning.
Hamilton's fastest time of 1m26.187 was a significant eight-tenths faster than his championship-leading teammate Nico Rosberg could manage.
Jenson Button surprisingly went second quickest for McLaren, splitting the Mercedes, six tenths back on Hamilton.
Ferrari's Fernando Alonso was fourth, ahead of Kevin Magnussen (McLaren) and Sebastian Vettel (Red Bull Racing), struggling a bit with insufficient top speed.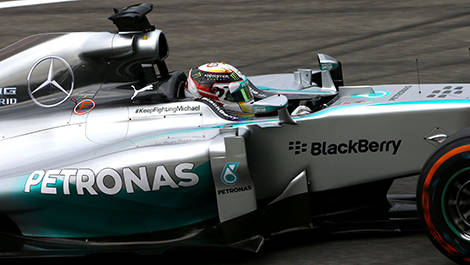 Lewis Hamilton, Mercedes AMG. (Photo: WRi2)
Second free practice session

Rosberg finished the second free practice session fractionally ahead of Hamilton after the Briton was once again forced to battle unreliability problems.
Hamilton lost the opening hour of the session due to what Mercedes AMG described as "electronic problems" which meant the team were unable to start his W05.
After changing the sensors on the car, Hamilton was sent out for a series of runs. On his qualifying simulation, he caught traffic and lost a bit of time.
Behind the Mercedes duo, Kimi Raikkonen and Alonso pleased the passionate Tifosi crowd by taking third and fourth, respectively.
Valtteri Bottas planted his Mercedes-powered Williams in 5th place, beating Jenson Button (McLaren), Sebastian Vettel (Red Bull Racing), Kevin Magnussen (McLaren), Felipe Massa (Williams) and Daniel Ricciardo (Red Bull Racing).
Getting heat into the conservative Pirelli tires (medium and hard compounds) continued to be a concern for the drivers during the session, leading to some experimenting a flying lap, slow lap, flying lap sequence to get the tires into the correct operating window.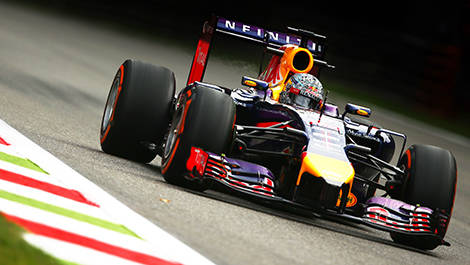 Sebastian Vettel, Red Bull Racing. (Photo: Getty Images/Red Bull)
Italian Grand Prix, Monza, free practice 1*, Friday

1 - Lewis Hamilton (Mercedes W05) - 1m26.187 - 25 laps
2 - Jenson Button (McLaren MP4-29-Mercedes) - 1m26.810 - 27
3 - Nico Rosberg (Mercedes W05) - 1m26.995 - 26
4 - Fernando Alonso (Ferrari F14 T) - 1m27.169 - 23
5 - Kevin Magnussen (McLaren MP4-29-Mercedes) - 1m27.228 - 30
6 - Sebastian Vettel (Red Bull RB10-Renault) - 1m27.271 - 27
7 - Kimi Raikkonen (Ferrari F14 T) - 1m27.493 - 27
8 - Sergio Perez (Sahara Force India VJM07-Mercedes) - 1m27.687 - 13
9 - Daniil Kvyat (Toro Rosso STR9-Renault) - 1m27.741 - 33
10 - Nico Hulkenberg (Sahara Force India VJM07-Mercedes) - 1m28.112 - 23
11 - Esteban Gutierrez (Sauber C33-Ferrari) - 1m28.114 - 21
12 - Valtteri Bottas (Williams FW33-Mercedes) - 1m28.148 - 20
13 - Felipe Massa (Williams FW33-Mercedes) - 1m28.150 - 21
14 - Jean-Eric Vergne (Toro Rosso STR9-Renault) - 1m28.300 - 30
15 - Giedo Van der Garde (Sauber C33-Ferrari) - 1m28.429 - 19
16 - Daniel Ricciardo (Red Bull RB10-Renault) - 1m28.487 - 12
17 - Daniel Juncadella (Force India VJM07-Mercedes) - 1m29.192 - 10
18 - Pastor Maldonado (Lotus E22-Renault) - 1m29.512 - 24
19 - Max Chilton (Marussia MR03-Ferrari) - 1m30.017 - 25
20 - Jules Bianchi (Marussia MR03-Ferrari) - 1m30.081 - 27
21 - Charles Pic (Lotus E22-Renault) - 1m30.125 - 23
22 - Roberto Merhi (Caterham CT05-Renault) - 1m30.704 - 29
23 - Marcus Ericsson (Caterham CT05-Renault) - 1m30.948 – 16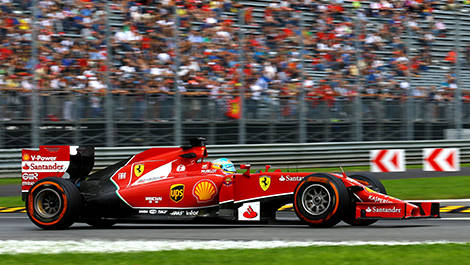 Fernando Alonso, Ferrari. (Photo: WRi2)
Italian Grand Prix, Monza, free practice 2*, Friday

1 - Nico Rosberg (Mercedes W05) - 1m26.225 - 41 laps
2 - Lewis Hamilton (Mercedes W05) - 1m26.286 - 16
3 - Kimi Raikkonen (Ferrari F14 T) - 1m26.331 - 31
4 - Fernando Alonso (Ferrari F14 T) - 1m26.565 - 26
5 - Valtteri Bottas (Williams FW33-Mercedes) - 1m26.758 - 34
6 - Jenson Button (McLaren MP4-29-Mercedes) - 1m26.762 - 34
7 - Sebastian Vettel (Red Bull RB10-Renault) - 1m26.762 - 27
8 - Kevin Magnussen (McLaren MP4-29-Mercedes) - 1m26.881 - 44
9 - Felipe Massa (Williams FW33-Mercedes) - 1m26.935 - 33
10 - Daniel Ricciardo (Red Bull RB10-Renault) - 1m26.992 - 37
11 - Sergio Perez (Sahara Force India VJM07-Mercedes) - 1m27.079 - 42
12 - Nico Hulkenberg (Sahara Force India VJM07-Mercedes) - 1m27.227 - 39
13 - Daniil Kvyat (Toro Rosso STR9-Renault) - 1m27.476 - 37
14 - Esteban Gutierrez (Sauber C33-Ferrari) - 1m27.840 - 33
15 - Jean Eric Vergne(Toro Rosso STR9-Renault) - 1m27.929 - 33
16 - Adrian Sutil (Sauber C33-Ferrari) - 1m28.029 - 36
17 - Jules Bianchi (Marussia MR03-Ferrari) - 1m28.659 - 34
18 - Pastor Maldonado (Lotus E22-Renault) - 1m28.700 - 42
19 - Max Chilton (Marussia MR03-Ferrari) - 1m28.786 - 29
20 - Romain Grosjean (Lotus E22-Renault) - 1m29.085 - 29
21 - Roberto Merhi (Caterham CT05-Renault) - 1m29.178 - 32
22 - Marcus Ericsson (Caterham CT05-Renault) - 1m29.275 - 37
* Unofficial timing