From GMM
As the morning's sensational news heads into late afternoon at Suzuka, tongues are still wagging far and wide in the Suzuka paddock.
Mercedes' Niki Lauda, who often dines with his fellow Austrian Dr Helmut Marko, told the British broadcaster
Sky
: "Last night at 9.30 Sebastian walked up to Christian Horner and said 'I'm leaving'."
Red Bull's revenge seems to be jumping the gun on Vettel's next move, almost certainly to Ferrari, ensuring that all eyes have now turned to the obviously departing Fernando Alonso.
Marco Mattiacci seemed bemused when asked why Red Bull had announced Ferrari's next driver lineup. "Thanks," he told the British broadcaster
Sky
.
The two leading theories about Alonso's next move is that he will either go to McLaren-Honda, or take a season off.
But he then gave a curious post-qualifying interview in which he smilingly confirmed that he is in the privileged position of being able to "choose" his 2015 employer.
"I want to be world champion," the Spaniard declared.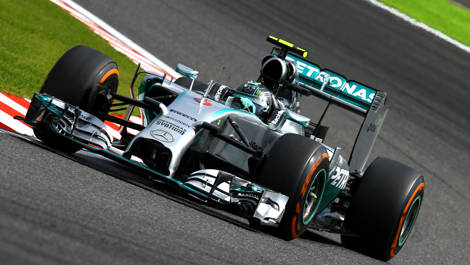 Would Fernando Alonso fit in a Mercedes car (Photo: WRI2)
For Alonso, the safe bet for winning the 2015 title would be to go to ultra-dominant Mercedes, whose drivers on Saturday once again locked out the front row of the grid.
But Nico Rosberg signed a new long-term contract this year, while Lewis Hamilton is firmly under contract for 2015.
And Lauda insisted on Saturday that not only will Mercedes field a silver arrows for Hamilton in 2015, but negotiations for a new contract in 2016 and beyond are well advanced.
The great Austrian said that, given Rosberg and Hamilton's dominance this year, "Why should we change?"
But what about the apparently available Alonso?
"For us it was clear. We never even discussed with him (Alonso)," Lauda said.
But there has been speculation Hamilton might not want to stick around at Mercedes should his nemesis Rosberg secure the number 1 for his silver car next year.
Asked about the Alonso-to-Mercedes rumour, Hamilton said after qualifying: "I'm there. I'm here (at Mercedes)," he insisted.
"He (Alonso) might be talking about a third seat maybe, but I don't think that's going to happen."