From Pirelli

Just as was the case for Monaco, the Pirelli P Zero Yellow soft and P Zero Red supersoft tires have been nominated for the Circuit Gilles Villeneuve in Montreal, home of the Canadian Grand Prix
The track is in fact a semi-permanent facility, which combines bespoke sections of track with normal park roads.
However, Montreal is a very different proposition to Monaco, with much higher average speeds, frequently changeable weather conditions, and a low-grip surface that often catches out even the most experienced drivers – many of whom have had contact with the famous 'wall of champions' in the past.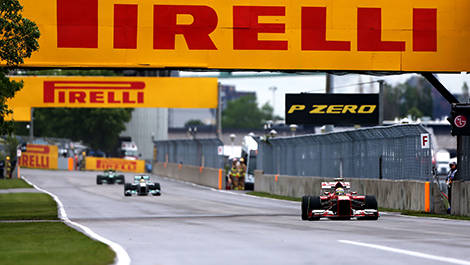 F1 cars reach 330 km/h on the main straight in Montreal. (Photo: Pirelli)
Other important factors affecting the tires in Montreal include braking, with heat from the brakes warming up the tires (although this year, the behaviour of the brakes is different, with the new brake by wire system).
There are also some notable kerbs in Montreal, which force the tire to absorb impacts as part of the car's suspension.
One of the biggest challenges for the tires in Canada is the fact that the asphalt is extremely inconsistent, made up of a number of different surfaces that offer variable levels of grip. The job of the tyre compound is to smooth out these differences to offer as consistent a level of grip as possible.

Maximum mechanical grip
"We're expecting the tires to be worked a lot harder in Canada than they were in Monaco, with a lot more energy and greater forces going through them due to much higher speeds. This should lead to the maximum possible mechanical grip, which is certainly what's needed in Montreal. There's a high degree of track evolution and we frequently see a lot of sliding – especially with reduced downforce this year – which obviously puts an increased amount of stress on the tire," said Paul Hembery, Pirelli motorsport director.
"But we are still expecting to have contained wear and degradation this weekend, even on the two softest tires in the range. Canada always tends to be an unpredictable race where strategy can make a real difference, also because of the high probability of safety cars. As we saw in Monaco, taking the right strategy opportunities when they present themselves under unusual circumstances is a key element to success at any circuit that falls outside the usual mould, with Canada being a prime example. Historically, there's a reasonable chance of rain, in which case judging the crossover points – sometimes without previous data, if each previous session has been dry – becomes crucial."