From GMM
Sebastian Vettel will not be marginalised by Red Bull despite shocking the team with his sudden departure news last week in Japan.
That is the claim of team chief Dr Helmut Marko, who is already fending off claims the Ferrari-bound German received second-rate treatment during the Suzuka race.
Before his surprise news last Saturday, Red Bull had insisted reigning quadruple world champion Vettel would not be the victim of 'team orders' to support his title-contending teammate Daniel Ricciardo in the last races of 2014.
But then came Friday.
"There were some signs already," Marko told Austrian
Servus TV
on Monday. "He is sorry that it happened completely without warning, but it did not surprise me.
"I approached Sebastian on Friday at Suzuka because I noticed that something was wrong," he revealed. "We then had dinner and he told me that he will leave us."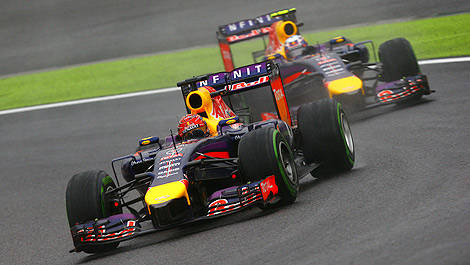 Sebastian Vettel leading Daniel Ricciardo on the wet Suzuka track. (Photo: WRi2)
Marko insists he is "still friends" with Vettel, but also true is that the 27-year-old triggered an escape clause in his contract at the eleventh hour.
Germany's
Auto Bild
reported that the first sign of Vettel's new role as the departing 'number 2' driver is the fact his pit strategy in Japan seemed to disadvantage him compared with Ricciardo.
"That's not true!" Marko exclaimed.
"We asked Sebastian if he wanted to come in for new tires for the final sprint, and he wanted to take the risk. We had assumed that he could even have a crack at Rosberg with the new tires, but this has nothing to do with discrimination!
"With us there are no team orders. We remain fair and sportsmanlike, which is our philosophy," he insisted.
Helmut Marko also explained why Fernando Alonso was never considered as Vettel's replacement for 2015. Red Bull has elected instead to promote the Toro Rosso rookie Daniil Kvyat.
"Alonso would have been the safest card to play," the Austrian told
Auto Motor und Sport
, "but that does not fit with Red Bull. It would make our junior programme absurd."
Australian Ricciardo also backed Russian Kvyat's promotion.
"Alonso might have been the logical choice," he agreed, "but Red Bull took a similar risk with me and it paid off."
"Kvyat is also the cheaper solution, so hopefully Red Bull puts the saved money into the car," Daniel Ricciardo grinned.