He may be leaving Formula 1 at the end of the season to race for Porsche in endurance racing, but Mark Webber undoubtedly has had a disappointing season so far.
Last Sunday's Belgian Grand Prix started on a bad note when the clutch of his Red Bull RB9 did not work properly.
"For Mark, his clutch wasn't good in preparation going to the grid. We did our best to tidy it up but he conceded a place to (Nico) Rosberg off the start, and then to (Fernando) Alonso into Eau Rouge," said team boss, Christian Horner.
"The two practice starts before the race were jot great, and so we were a bit worried about the clutch going to the start, which put us to the back foot. We tried our best, but lost a couple of rows off the line which is not good," Mark Webber said.
"We particularly need to address the start issue with Mark (Webber), and have to get on top of that. It has cost us too many points so far," Horner added.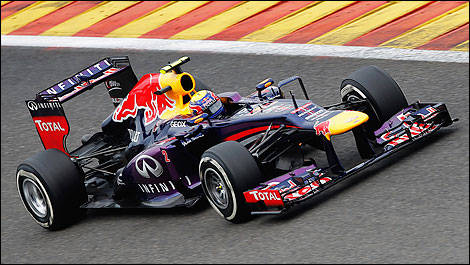 Mark Webber, Red Bull RB9, in Spa-Francorchamps. (Photo: WRi2)