A group of former Caterham F1 Team employees has started legal action against the team's new owners, arguing unfair dismissal.
Following the takeover the team by a group of investors led by Christijan Albers and Colin Kolles, 38 employees were sacked. The group threatened to take legal action last month.
Friday, it was confirmed that the group has issued employment Tribunal Proceedings.
"Thirty-eight former staff have today issued employment Tribunal Proceedings against Caterham in light of its failure to settle claims following their unlawful axing by new owners back in July," it read.
"Due to the amount of money involved in the claims made, further High Court Proceedings are also imminent against the Leafield F1 company."
The statement also denied the new owners claims that the staff had received their final payments: "Contrary to reports made by Caterham, the ex-employees have still not been paid their July salaries despite promises that they would be paid for 1-15 July. Nor have the employees or their solicitors received any substantive response to their letter to Caterham on 25 July 2014 urging a response to the above matter and inviting settlement."
The group statement ended: "The hope is that Caterham will enter into a constructive discussion with the employees and their legal representatives so this matter can be resolved swiftly and amicably."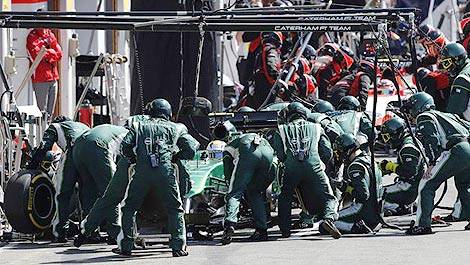 Photo: Caterham F1 Team