Four-time Formula 1 World Champion Sebastian Vettel has been struggling since the start of the season with the new Red Bull RB10 Renault. In China, the German crossed the line a disappointing 5th.
"During the race I just did not have the grip to keep up with Fernando (Alonso), as on the long back straight the DRS zone only begins somewhere close to the middle of it. I had no chance to overtake him and this is why I decided to drop back. I was very slow on the prime tires," said Vettel after the race.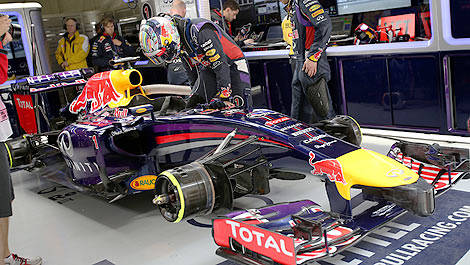 Sebastian Vettel, Red Bull RB10-Renault. (Photo: WRi2)
When asked if he feels comfortable in the Red Bull RB10, Vettel replied: "Well, I am not yet where I want to be, and I'm pretty much fighting with the car. It is an ongoing process. Sometimes it feels that we are making one step forward, but then also one backward again. Hopefully we are able to make some steps into the right direction for the upcoming races".
Vettel admitted it will be very difficult to catch the flying Mercedes of Lewis Hamilton and Nico Rosberg.
"The season is not over - at least I have not heard that yet - so we are still facing a long year. So anything should be possible - still! The truth is that we have a great car, and now we need to work on the upgrades and implement them in the best possible way to make sure we get more power out of the engine," Vettel explained, putting again pressure on Red Bull' engine supplier Renault.