From GMM
A week ago, the 'silly season' seemed much clearer.
Sebastian Vettel announced his shock departure from Red Bull, and everyone - including his current employer - simply assumed he would be heading to Ferrari.
Ferrari, however, has been completely silent on the issue ever since, despite deafening speculation it is replacing Fernando Alonso with Vettel.
But nothing has been announced.
Again, on Thursday in the shiny new Sochi paddock, Ferrari is saying nothing.
And neither is German Vettel.
"I have nothing new to say," he told reporters in Russia, "but I hope to announce something soon.
"When the thing is out, you are probably clever enough to understand why I had to wait," Vettel added.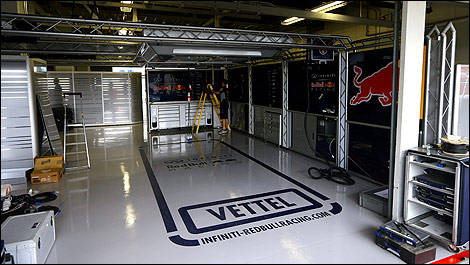 Stand Red Bull. (Photo: WRi2)
The reigning world champion's comments follow the latest round of sensational 'silly season' rumours in the wake of the developments of last week.
McLaren rejected claims Mercedes' Lewis Hamilton visited Woking to sign a contract, but also rumoured is that Vettel might not be Ferrari-bound after all.
One report suggested McLaren's next driver lineup might be Alonso alongside Vettel.
Fascinatingly, when he was asked about the Ferrari rumours at Suzuka exactly one week ago, Vettel answered: "I think there has always been rumours over the last couple of years, especially around this time of the season.
"I think probably more for (McLaren driver) Jenson (Button). He already has 17 teammates for next year.
"I have been one of them a couple of weeks ago, maybe next week I will be again."