From press release

Four-time world champion Sebastian Vettel became on Monday the first F1 driver to lap the newly completed Sochi Autodrom in Krasnodar Krai, Russia.
The Infiniti Red Bull Racing driver and Infiniti Director of Performance travelled straight to Sochi from Spa Francorchamps after finishing fifth in the Belgian Grand Prix on Sunday. After a tour of the venue's facilities, he completed a number of high speed laps of the full Grand Prix circuit in an Infiniti Q50 Hybrid. Vettel was joined by former Formula One driver David Coulthard, driving the circuit with VIP guests and media.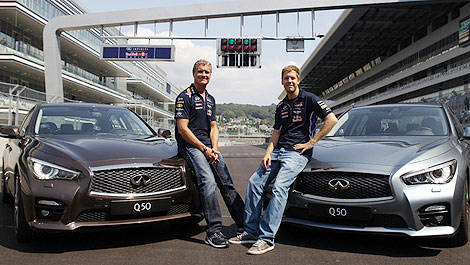 David Coulthard and Sebastian Vettel at Sochi, Russia. (Photo: Infiniti)
Vettel is no stranger to Sochi having visited the venue with Infiniti in April 2013 when the circuit was still under construction. Since then, the complex has hosted the 2014 Winter Olympic Games ahead of the inaugural Russian Grand Prix due to take place on October 12 2014.   
The Sochi Autodrom, designed by famed Formula One architect, Hermann Tilke, features 18 corners across 5.8 kilometres and will host round 16 of the 2014 World Championship.
Commenting on his driving experience in Russia, Sebastian Vettel said: "It is great to be back in Sochi and the venue has been transformed since I was last here when it was really just a construction site. Having driven the full circuit for the first time in the Infiniti Q50 today, it's an interesting layout with a good mix of high speed corners and technical sections. It's going to be a huge challenge in a Formula One car for sure and I'm really looking forward to coming back in October."