Mexican Formula 1 driver Sergio Perez says he is "very close to committing" to Force India Formula 1 team for 2015.
However, he admits anything could happen until the deal is signed.
In the FIA press conference Thursday in Singapore, Perez declared: "I think we should be very close to committing to next year with the team, but you never know and I have experience in the past so you never know what is going to happen."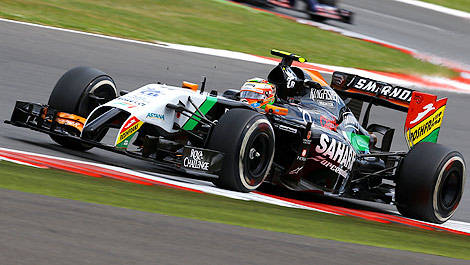 Sergio Perez, Sahara Force India. (Photo: WRi2)
Perez feels Sahara Force India can move ahead of McLaren this weekend in the constructors' standings in the battle for 5th place.
"We are really optimistic for this weekend," he continued.
"We have a good upgrade package and definitely our target is the McLarens which we are fighting really close and hopefully we can score more points than them this weekend with both cars and hopefully the upgrade package will give us some boost," he added.
McLaren is currently 5th in the standings with 110 points, one more than Sahara Force India. Mercedes V6 power units power the cars of both teams.