The F1 world championship has left Europe and is now entering its final flyaway phase, and Mercedes driver Lewis Hamilton is looking forward to the next grand prix.
Hamilton bounced back from a series of misfortunes, last week-end in Monza, leading his teammate Nico Rosberg to a 1-2 finish. Now that the momentum has swung back his way, the Brit is not at all worried by his 22-point deficit in the chase for the drivers' title.
"I'm still well and truly in the hunt for the championship and that is something that gives me huge motivation for the final six races," he says.
"(Singapore) is a great place to begin the final flyaway phase of the season. The city is buzzing and the track is mega. It's a street circuit and I love street circuits."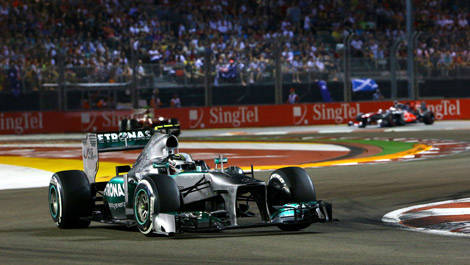 Lewis Hamilton, Singapore, 2013 (Photo: WRI2)
Of course, the night race in Singapore is a popular event not just with Hamilton, but throughout the paddock.
"Singapore is a race that I'm sure the whole paddock looks forward to," points out Mercedes' technical boss Paddy Lowe.
"It's a glamorous event with a fantastic atmosphere - to the extent that standing on the starting grid under the thousands of spotlights feels much like being on stage, waiting for the theatre to begin.
"The circuit itself could not stand as more of a contrast to Monza, with a lot of low-speed corner content."