From press release
Mercedes driver Lewis Hamilton beat his teammate Nico Rosberg by only 0.007 second during qualifying for the Singapore Grand Prix.
That represents only 33.5 centimetres around the Marina Bay circuit.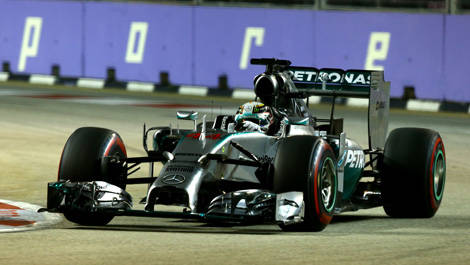 Lewis Hamilton, Mercedes W05 (Photo: WRI2)
"That was one of the most exciting qualifying sessions I can remember," said an enthusiastic Hamilton.
"I lost a lot of time at the beginning of my last lap and at that point I thought pole was lost. But I just kept going and managed to pull some time back."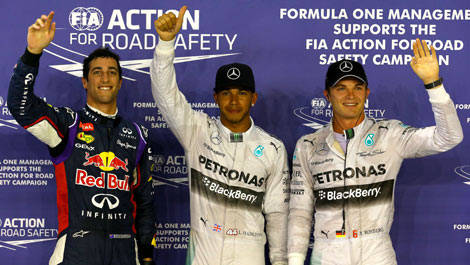 Daniel Ricciardo, Lewis Hamilton, Nico Rosberg (Photo: WRI2)
Despite losing to Hamilton by such a small margin, Rosberg was not dwelling on his performance: "When I heard that Lewis was that tiny margin quicker I thought 'damn'!
"I directly reviewed my lap and thought there were so many places to gain seven thousandths of a second – especially in the last corner.
"But in the end he did seven thousandths of a better job today, so fair play to him. P2 is still good for tomorrow's race and I'm focused on having a good start."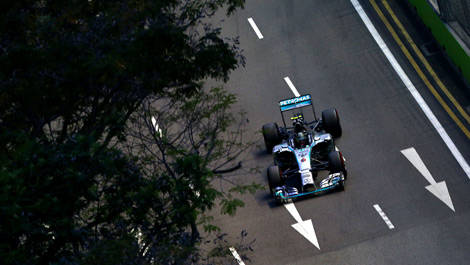 Nico Rosberg, Mercedes W05 (Photo: WRI2)
And in Singapore, Mercedes' rivals look closer than ever.
"From our point of view, it's clear that we don't enjoy the advantage here that we have had on previous weekends," admitted Toto Wolff.
"But this is a unique circuit and to produce a car which can be fast at every venue on the calendar is a big task, so we must be very pleased with a 1-2 front-row lockout."
Qualifying results* – Singapore Grand Prix (round 14 of 19)
1.Lewis Hamilton (Mercedes W05) - 1'45"681 - Q3
2.Nico Rosberg (Mercedes W05) - 1'45"688 - Q3
3.Daniel Ricciardo (Red Bull RB10-Renault) - 1'45"854 - Q3
4.Sebastian Vettel (Red Bull RB10-Renault) - 1'45"902 - Q3
5.Fernando Alonso (Ferrari F14-T) - 1'45"907 - Q3
6.Felipe Massa (Williams FW36-Mercedes) - 1'46"000 - Q3
7.Kimi Raikkonen (Ferrari F14-T) - 1'46"170 - Q3
8.Valtteri Bottas (Williams FW36-Mercedes) - 1'46"187 - Q3
9.Kevin Magnussen (McLaren MP4/29-Mercedes) - 1'46"250 - Q3
10.Daniil Kvyat (Toro Rosso STR9-Renault) - 1'47"362 - Q3
11.Jenson Button (McLaren MP4/29-Mercedes) - 1'46"943 - Q2
12.Jean-Eric Vergne (Toro Rosso STR9-Renault) - 1'46"989 - Q2
13.Nico Hulkenberg (Force India VJM07-Mercedes) - 1'47"308 - Q2
14.Esteban Gutierrez (Sauber C33-Ferrari) - 1'47"333 - Q2
15.Sergio Perez (Force India VJM07-Mercedes) - 1'47"575 - Q2
16.Romain Grosjean (Lotus E22-Renault) - 1'47"812 - Q2
17.Adrian Sutil (Sauber C33-Ferrari) - 1'48"324 - Q1
18.Pastor Maldonado (Lotus E22-Renault) - 1'49"063 - Q1
19.Jules Bianchi (Marussia MR03-Ferrari) - 1'49"440 - Q1
20.Kamui Kobayashi (Caterham CT05-Renault) - 1'50"405 - Q1
21.Max Chilton (Marussia MR03-Ferrari) - 1'50"473 - Q1
22.Marcus Ericsson (Caterham CT05-Renault) - 1'52"287 - Q1
*Unofficial results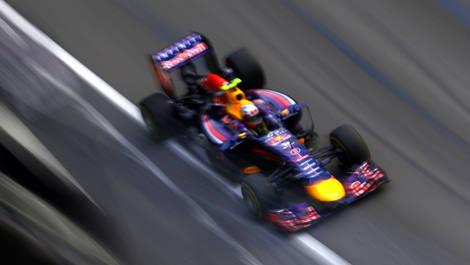 Daniel Ricciardo, Red Bull RB10 (Photo: WRI2)