From GMM

Stefano Domenicali has admitted he is contemplating "several very interesting options" for his future.
The 49-year-old had worked for Ferrari for almost half of his life when he was replaced as team boss by Marco Mattiacci earlier this season.
Since then, he has been linked with a prominent role in the unfamiliar world of Italian basketball, and last weekend attended the Mugello round of the two-wheeled F1 equivalent, MotoGP.
Asked by the Spanish sports newspaper
Marca
what he is doing now, Domenicali answered: "I'm trying to disconnect from the world of F1.
"It was an extraordinary experience and I will always support Ferrari. Always. And Fernando (Alonso).
"Then I will take decisions about my future. I have several very interesting options, but I have no hurry," he revealed.
"I need to think about it and then choose the best option for next year," said Domenicali.
Asked if he sees his future in a competitive field or elsewhere, he answered: "I exclude nothing. Anything is possible. It's still early to say."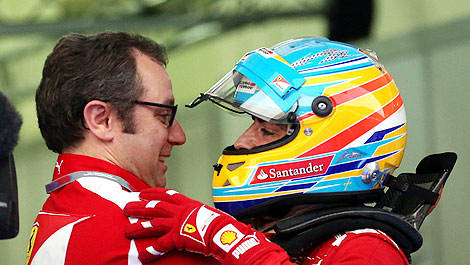 Stefano Domenicali et Fernando Alonso, Ferrari 2012. (Photo: WRi2)
Prior to Domenicali's Ferrari exit, it was not known that the Italian was so close to Alonso. The pair were both at the Mugello MotoGP round last weekend.
Fernando Alonso is in the process of setting up a professional cycling team for 2015.
When asked about his relationship with the Spaniard, Domenicali said: "Yes, our relationship is extraordinary."
He played down claims that his affable nature, and particularly his friendships within Ferrari, meant he was not suitable for leadership in a tough world like F1.
"People can say what they want. But I don't think that having good relationships with people means you're good or bad at something," insisted Stefano Domenicali.