From GMM

Red Bull has confirmed reports Adrian Newey is staying with the team beyond 2014.
Earlier on Sunday, it was reported that the reigning champion team had devised a cunning plan to keep the highly sought-after engineer out of the clutches of its big-paying key rivals.
Germany's
Auto Motor und Sport
said Red Bull is building a new technology centre near its F1 factory in Milton-Keynes, where new and innovative technical projects will be born -- with none other than Newey in charge.
Reportedly, the projects will range from innovative road cars to aircraft, "with the secret hope that someday he will miss competition and crawl back to F1", said correspondent Michael Schmidt.
Shortly after those reports emerged, Red Bull announced in Montreal that it has inked a new "multi-year agreement" with the Briton.
The team confirmed that Newey, 55, will work on "new Red Bull Technology projects", as well as "advising and mentoring" the F1 team "as it develops its formula one cars over the next few seasons".
"The details of the new projects will be announced in due course," a media statement added.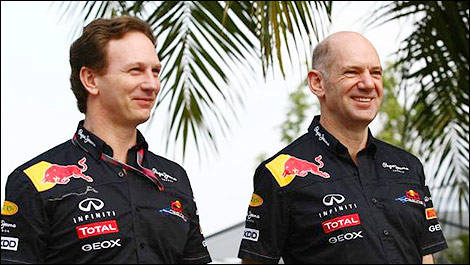 Christian Horner and Adrian Newey, Red Bull Racing. (Photo: WRi2)