From press release
Infiniti today announces the winners of its global talent search initiative that will see three engineering students given the career opportunity of a lifetime with World Championship-winning Formula One team, Infiniti Red Bull Racing.
After a grueling three-day world final event in the UK which saw 12 hopefuls from around the world competing for victory in the Infiniti Performance Engineering Academy, it was William Priest (23) from Chesham, Buckinghamshire, UK, Eric LaRoche (25) from Hamilton Square, New Jersey, USA, and Jason Zide (21) from Laguna Beach, California, USA that were deemed the winners.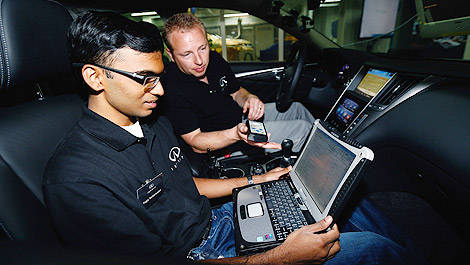 The Infiniti Academy applicants in action during an Infiniti Performance Engineering Academy day. (Photo: Infiniti)
They were judged by a panel of senior engineering personnel from Infiniti and the race team, led by Chief Technical Officer Adrian Newey, recently announced to be taking a broader role on other special Red Bull Technology projects. Along with a lucrative 12-month work placement with the team beginning in September, the winners will receive accommodation in the UK, an Infiniti company car and full salary.
With the in-depth assessment process split between Infiniti's Technical Center in Cranfield, UK and Infiniti Red Bull Racing in Milton Keynes, UK, the final candidates, selected from over 1,500 entrants across 100 top engineering universities worldwide, faced a series of challenges over three days relating to road car and racing car engineering. These included practical design tasks, written exams, intense interviews and complex group exercises to test their technical ability, teamwork skills and performance under pressure.
In one task they even got a first-hand insight into the role of a race engineer by working alongside four-time World Champion and Infinti's Director of Performance, Sebastian Vettel, in the team's simulator.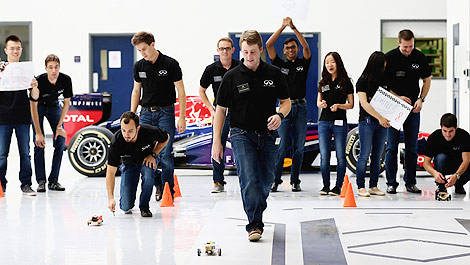 The Infiniti Academy applicants in action during an Infiniti Performance Engineering Academy day. (Photo: Infiniti)
Commenting on the conclusion of the process, Andreas Sigl, Global Director, Infiniti Formula One, said: "William, Eric and Jason impressed us all throughout the process, especially given the stiff competition they had from the other candidates. They demonstrated not just a natural aptitude for engineering and an excellent work ethic, but also a real understanding of the benefits Formula One can bring a road car company like Infiniti and the potential for even greater technical crossover in the future. We're delighted to have given them the opportunity to realize their dream and will be working closely with them as they settle into their new role."
Adrian Newey added: "It's an incredible achievement for the winners to have made it through this process and I was extremely impressed with the caliber of all 12 of the finalists. It's a credit to Infiniti for providing this unique platform to find the very best up-and-coming engineers looking to break into the ultra-competitive world of Formula One. For the winners though, the work really begins now, and we look forward to bringing them into the team in September."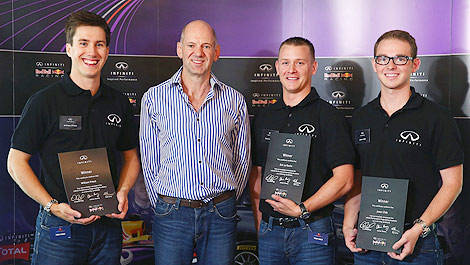 Adrian Newey, chief technical officer of the Red Bull Racing Formula One team pictured with William Priest, Eric La Roche and Jason Zide (the three winners). (Photo: Infiniti)
Infiniti Performance Engineering Academy winner profiles
William Priest

William, 23, from Chesham, Buckinghamshire, studies Mechanical Engineering at the University of Exeter. Enthusiastic about his motorsport, the British student has previously gained experience working as a race engineer with the TH Motorsport British Touring Car team where he assisted the set-up and preparation of the race cars. Familiar with Infiniti Red Bull Racing, he also spent two weeks working with the Formula One World Champions in the design department.
Eric LaRoche

Eric, 25, from Hamilton Square, New Jersey, studies Mechanical and Aerospace Engineering at the University of Maryland, College Park. He has a passion for motorsport and aviation and, in addition to participating as lead aerodynamicist with the University of Maryland's Formula SAE team, has gained experience with Chrysler's Viper GTS-R team in the American Le Mans Series as well as time working at aviation giant Boeing.
Jason Zide

Jason, 21, from Laguna Beach in California, studies Mechanical Engineering at the University of Southern California. He is Team Captain of a Formula SAE team and is familiar with the Infiniti family having completed work experience with the premium auto brand at its North American Technical Center.