How come there's lap time difference of some two seconds between two Formula 1 cars powered by the same engine and shod on the same type of Pirelli tires?
Here are the data obtained from the F1 timing system at Barcelona during this past weekend's Spanish Grand Prix*.
Qualification session, 2013 Grand Prix of Spain, Barcelona
Driver                      Car                        Best time       Top speed
Vettel                       Red Bull RB9         1m21.054      306.2 km/h
Raikkonen                Lotus E21             1m21.177      313.1 km/h
Maldonado               Williams FW35      1m23.318      312.2 km/h
Van der Garde         Caterham CT03     1m24.661      310.8 km/h
*We used the qualification session as our benchmark since all drivers are pushing really hard unlike during the race where they have to save their tires. All these cars are powered by the same Renault engine.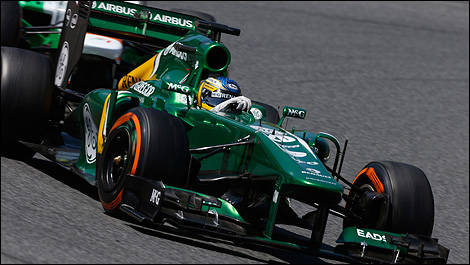 Caterham CT03-Renault. (Photo: WRi2)
From the data shown above, it is interesting to note that Sebastian Vettel's Red Bull RB9 had the slowest top speed of all four cars. Kimi Raikkonen's Lotus E21 was a full 7 km/h faster than the RB9 at the Barcelona speed trap. However, their lap times are practically identical.
So, if the engines, gearboxes, tires, and driving conditions are similar the only variables left that can explain the difference in lap time come from the drivers, the suspension geometries, the chassis, and the aerodynamics.
"The most crucial factor is aerodynamics," told us Frank Dernie, former technical director for several F1 teams -- a career that lasted between 1976 and 2009.
"[There's] probably a little bit of driver difference, too; maybe a touch of set-up ignorance, too. I learned back in the '70s that the suspension geometry makes little or no difference to lap time. It does influence driver feel and tire wear, but not lap time," Dernie revealed.
Dernie, who spent most of his career with F1 teams Williams, Lotus, and Toyota says chassis stiffness does not come into play.
"It is pretty well impossible to make a chassis strong enough to pass the safety tests which isn't stiff enough," he explained.
So, difference in lap time boils down to efficient -- or inefficient -- aerodynamics.
"I first began to suspect this from testing in the mid-'70s. The only things we changed which could actually be seen on the stopwatch were aerodynamics. Nothing I experienced since has countered this observation," Dernie confessed to Auto123.com.
Despite the fact that to most fans, one F1 car looks exactly the same as another (such as the Red Bull RB9 and the Caterham CT03 pictured here), there are thousands of subtle discrepancies between them.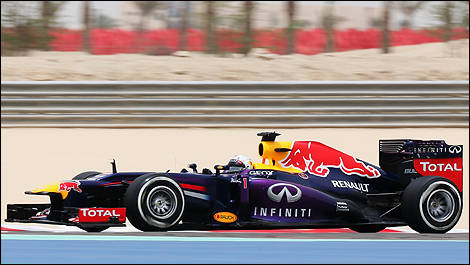 Red Bull RB9-Renault. (Photo: Red Bull Racing)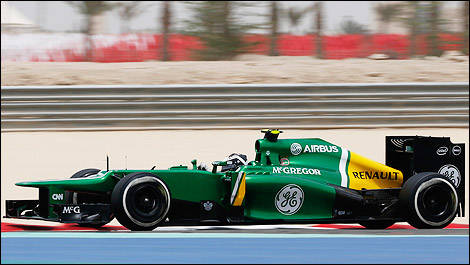 Caterham CT03-Renault. (Photo: WRi2)
Knowing that downforce squares with speed (meaning that doubling speed makes four times as much downforce), little changes to aerodynamic components will generate huge differences in vertical forces (and drag) at high speeds.
"However, aerodynamics is much more complex than most people imagine, particularly on an open-wheeled car," Dernie added as a warning, knowing that it is too easy to pinpoint just one reason to explain such a complex problem.
Getting aerodynamics slightly wrong is a lot easier to achieve than getting them right!