Let's see here the steering wheel that Sebastian Vettel used to steer his Red Bull-Renault RB8 to his third World Championship in 2012.
The steering wheels of the F1 cars are all hand made from exotic materials such as carbon fibre, aliminium, magnesium, titanium and they contain hundreds of tiny electronic components to make adjutments to the car, engine and gearbox.
Photo: WRi2
There are buttons for the KERS, the Kinetic Energy Recovery System and the DRS, Drag Reduction System along with the usual array of toggles, switches and levers.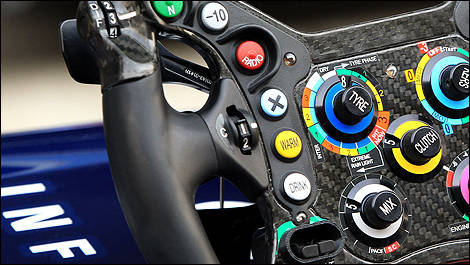 Photo: WRi2
Button Function*

DIFAdjust the behaviour of the differential
N Puts gearbox into neutral
RADIOPush to talk to the team
XSets a marker in the telemetry to indicate a problem is encountered.
DRINKPush to drink
DEFAULTReset certain settings to their original values
TYREDriver adjust this knob to tell the team about the tires and adjust electronics to suit different tires
KERSSelect KERS settings
CLUTCHSelect clutch adjustment
MIXChange engine's mixture settings
FW. ENTells the team if there's a need to change front flaps angle
REVAllow more engine revs to pass another car
OILActivates supplementary oil tank for engine
OKDriver acknowledge if radio does not work
FAILCommand all systems into a fail-safe mode just to get the car going again
PITActivate speed limiter in the pit lane
TROChange throttle pedal map
*The functions of the buttons and switches are estimates.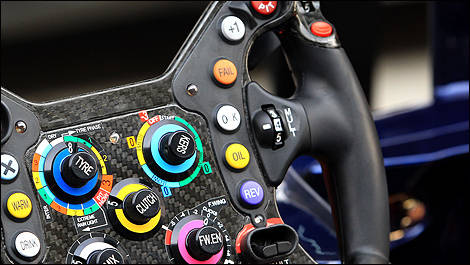 Photo: WRi2