From GMM
Red Bull has not denied that Carlos Sainz jr is the obvious choice to replace Daniil Kvyat in 2015.
Suzuka and the sport was rocked on Saturday when it emerged Sebastian Vettel is leaving Red Bull's senior team, with the 20-year-old Russian Kvyat to replace him.
"I was very honoured," Kvyat told the
BBC
on Saturday, "and very surprised."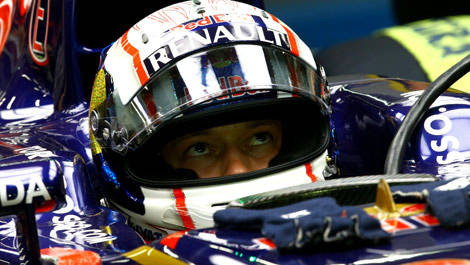 Daniil Kvyat has done enough to earn a drive at Red Bull (Photo: WRI2)
It leaves a gap at Toro Rosso, Red Bull's junior team, who had already announced that Kvyat would be racing at Faenza alongside rookie teen Max Verstappen next year.
Until the Verstappen news, 20-year-old Spaniard Sainz, whose father and namesake is the well-known world rally legend, had been the favourite to step up at Toro Rosso in 2015.
He is expected to wrap up the Formula Renault 3.5 championship later this month.
Christian Horner, the team boss at Red Bull's senior team, was asked by the Spanish daily
AS
on Saturday if Sainz will now be stepping up at Toro Rosso.
"We'll see what happens with Carlos," he answered. "It's something to talk about.
"We always look to talent and try to make the right decision," Horner added.