Although he was not taking part in the Tour de France, Mercedes AMG F1 Team chairman Toto Wolff was injured Tuesday in a cycling accident.
The news was released via the team's official
Twitter
account: "A bit of a carambolage during yesterday's bike ride resulted in a fractured shoulder, collar bone, elbow and wrist..."
Wolff, now nicknamed #Totonator (because of the metal plates et screws now in his arm), added: "We've decided to leave it to the pros now. Lewis & Nico are better wheel to wheel at 300 km/h than we are at 30 km/h!"
Wednesday morning, his wife, Williams' development driver Susie Wolff, posted this photo and wrote: "My husband the hero! As we know, boys will be boys... Looks like I am on nurse duty for the next few weeks!"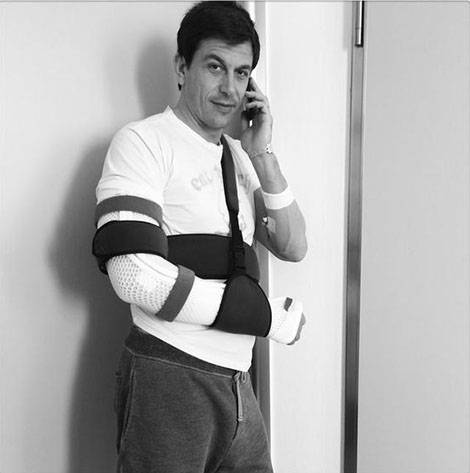 Toto Wolff (#totonator) (Photo: Susie Wolff)