From GMM
Valtteri Bottas appears out of the running for a change of team prior to the 2015 season.
The Finn has been a standout of this year's championship, outshining the Ferrari veteran Felipe Massa and leading Williams' F1 resurgence with four podium appearances.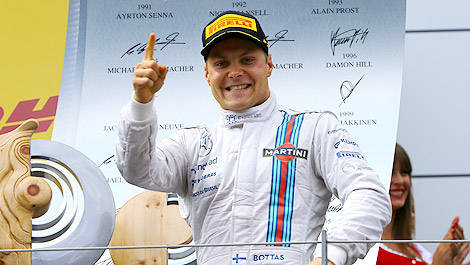 Valtteri Bottas on the podium, Williams. (Photo: WRi2)
The 25-year-old has therefore been linked with a potential move from the Grove squad, perhaps to McLaren as the Woking team plans for a long and lucrative future with new works partner Honda.
But Bottas seems destined to stay at Williams, the team that groomed him from F1 tester to 2014 star.
"Personally I don't see a reason to look elsewhere at this time," he is quoted as saying by Italy's
Tuttosport
and the Spanish sports daily
Marca
.
"We are working in the right way and I am confident that this team can be even better than what we have seen so far this year. That's why I'm confident about continuing. Perhaps it's too early to talk about the contract," he added, "but I really want to continue this adventure with Williams.
"Until then it's better to wait for confirmation, so we will talk when we have something to say," said Valtteri Bottas.