Veteran British engineer Pat Symonds has worked alongside several champions-in-the-making such as Ayrton Senna, Michael Schumacher and Fernando Alonso during his career.
Symonds, today's Williams' technical director fully agrees that Valtteri Bottas is a world champion of the future.
"I am completely convinced that he is a future world champion," the Briton told Finland's
Turun Sanomat
, "and I want to make sure he does it with us at Williams.
"I have been with two young guys, Fernando (Alonso) and Valtteri, as they started their careers and then developed. And I see a lot of similarities.
"But I think Valtteri as a total package has the potential to be even better than Fernando," Pat Symonds added.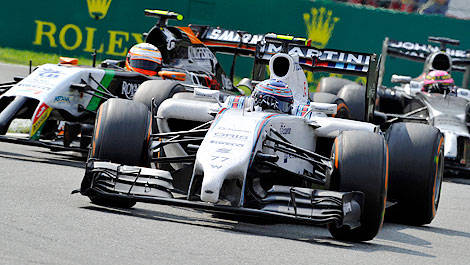 Valtteri Bottas, Williams, at Monza. (Photo: WRi2)
Twenty-five-year-old Bottas' potential was reportedly spotted elsewhere in pit lane this year, including at McLaren who have been looking to freshen its driver line-up.
But Valtteri Bottas insists staying at "Williams was definitely always the priority".
"We have improved so much since last year and now it seems that the direction is correct.
"I believe we will be even better next season and that this is the best place for me at the moment," the 2011 GP3 series' champion said.