Let's compare the performance of the two Williams F1 Team drivers this season to see who was the most regular point scorer.
Wednesday, November 28, Williams unveiled its 2013 driver lineup with Pastor Maldonado and Valtteri Bottas,
ousting Brazilian Bruno Senna
from the equation.
"It has been extremely satisfying to be the team's most regular point scorer, and for me to demonstrate my pace in all 20 races," said Senna in a press release shortly after the announcement.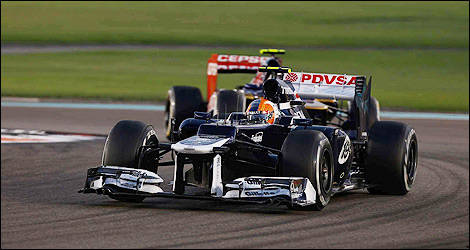 Bruno Senna, Williams, at Abu Dhabi. (Photo: WRi2)
Was he really?

In 20 Grands Prix, Senna scored points on 10 occasions and collected a total of 31, for an average of 1.55 points/race.
In comparison, Venezuelan Maldonado scored 45 points by finishing in the top 10 on only five occasions, giving him an average of 2.25 points/race.
Maldonado scored a big chunk of his total (25 points out of 45) by winning the Spanish Grand Prix, true; however, he then failed to score a single point over a period of nine consecutive races. In the second half of the season, Maldonado only scored points three times compared to five for Senna.
So, by scoring points in 10 races this season, yes, Bruno Senna can claim that he is the most regular point scorer of the team. Pastor Maldonado's inconsistency, collisions and penalities cost him dearly.