Let's look at the (short) career of the newly signed Toro Rosso Formula 1 driver, Max Verstappen.
Max was born September 30, 1997 from two successful kart racers: Jos Verstappen and Belgian Sophie Kumpen.
Father Jos raced Formula 1 from 1994 to 2003, driving for teams Benetton, Simtek, Footwork, Tyrrell, Stewart, Arrows and Minardi.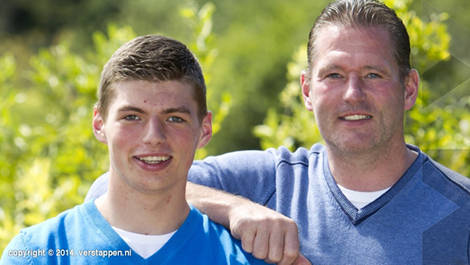 Max and father Jos, who raced Formula 1 from 1994 to 2003 (Photo: verstappen.nl)
Young Max got in a kart for the first time at the age of four.
By 2003 Max was karting regularly in Genk, Belgium, private training once or twice a week and at several other circuits with "Mini" karts.
The serious racing only started in 2005, he completed a full Mini karting season and won the Belgium Championship Mini, he dominated with 21 races and 21 wins.
After a successful career in karts, culminating in winning the KZ1 World Championship last year, Max stepped up to open wheelers this season in the inaugural Florida Winter Series in Florida.
In the 12 race series, Max scored two wins and three other podiums.
He then joined the Van Amersfoort Racing team for the FIA Formula 3 European Championship.
Earlier this summer, Max matched a very important mark set by his father, winning the Zandvoort Masters F3 race, Jos achieved that in 1993 and Max mirrored it this year, setting off from pole just as his dad did.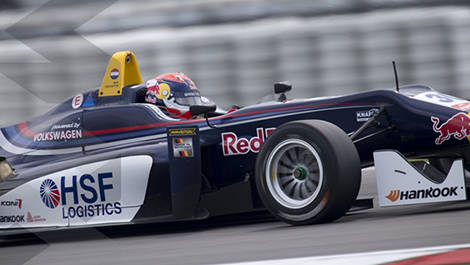 In Formula 3 (Photo: verstappen.nl)
There is no doubt that his first open wheel season has been stunning and Max admits it has even surprised him. "Actually it has. I didn't expect to be able to adapt myself that quickly to an F3 car and to be on pace immediately."
Naturally Max wants to go further and his aim is clear, "To become Formula 1 World Champion."
RACING CAREER DETAILS:2014
: Florida Winter Series - 12 races 2 wins and 3 other podiums
First year FIA Formula 3 European Championship for Van Amersfoort Racing
Winner of the Zandvoort Masters, Formula 3
2013
: 1st WSK Master Series – KZ1
1st WSK Euro Series – KZ1
1st CIK-FIA European Championship – KZ1
1st CIK-FIA World Championship – KZ1
1st Winter Cup Lonato Italy – KF
1st CIK-FIA European Championship – KF
3th CIK-FIA World Championship – KF
2012
: 1st Winter Cup Lonato Italy – KF26th WSK Euro Series – KF2
1st WSK Master Series – KF2
10th CIK-FIA European Championship – KF2
2nd CIK-FIA World Cup – KF2
1st Round 1 BNL Karting Series – KZ2
DNF Round 4 Deutsche Kart Meisterschaft – KZ2
DNF CIK-FIA World Cup- KZ2
8th CIK-FIA World Championship – KF1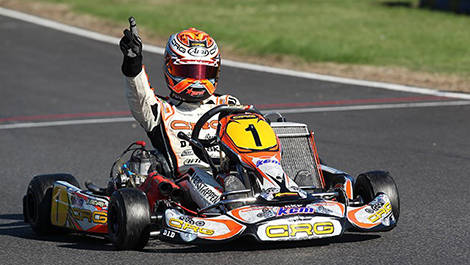 In karting (Photo: CRG)
2011
: 2nd Winter Cup Lonato Italy – KF3
1st WSK Euro Series – KF3
14th CIK-FIA European Championship – KF3
DNF CIK-FIA World Cup – KF3
2010
: 2nd Winter Cup Lonato Italy – KF3
1st WSK Euro Series – KF3
1st WSK World Series – KF3
1st WSK Nations Cup – KF3
5th CIK-FIA European Championship – KF3
2nd CIK-FIA World Cup – KF3
1st Bridgestone-Cup Final – KF3
2009
: 1st Belgium Rotax Max Challenge – Mini Max
1st Benelux Karting Series - Mini Max
1st Belgium Karting Championship - KF5
2008
: 1st Belgium Rotax Max Challenge – Mini Max
1st Benelux Karting Series - Mini Max
1st Belgium Karting Championship - KF5
2007
: 1st Belgium Rotax Max Challenge – Mini Max
1st Dutch Championship (Rotax Max) - Mini Max
2006
: 1st Belgium Championship Karting (VAS) - Mini
2005
: 1st Belgium Championship Karting (VAS) - Mini