From press release
53 year-old Michel Bonnet showed the young drivers the way around Le Circuit Gilles Villeneuve today and will lead the field to the green for Round 3 of the Formula 1600 Super Series.
Bonnet posted a best lap of 1:54.218 and will share the front row with Olivier Bedard who put up a best time of 1:54.836 despite having to hit pit road to have a broken throttle cable repaired. Tristan DeGrand will start from the inside of the second row with a lap of 1:54.960. 58 year-old Duncan Murdoch will start fourth and Max Hanratty round out the top five.
The Masters Class drivers put on an impressive display in qualifying, grabbing not only the pole but four of the top ten spots.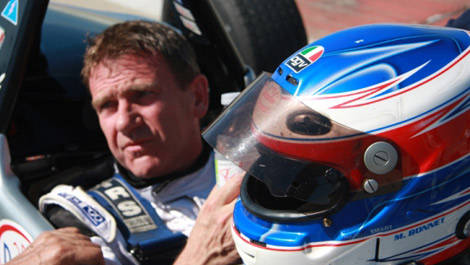 Michel Bonnet (Photo: Dany Flageole)
The session saw lots of spins which may have had something to do with the late 6pm start time. The session was stopped a couple of minutes short due to an incident with Lew MacKenzie making contact with the outside wall on the entrance to the hairpin and damaging his right side suspension.
The first race of the Formula 1600 Super Series at the Grand Prix of Montreal will go green at 2:30 pm ET on Saturday, directly after Formula One qualifying.