From press release
Tristan DeGrand won both Formula 1600 races held during the Canadian Grand Prix in Montreal last weekend.
Pole sitter Michel Bonnet led the field to the green in Race 1, holding off a hard charging Tristan DeGrand and Olivier Bedard.
DeGrand made several attempts in the first few laps to get by Bonnet and when he did eventually prevail proved too much for anyone to stay with. He would gap the field slightly as they battled behind him.
At the checkered flag it was Tristan DeGrand first followed by Michel Bonnet and Duncan Murdoch followed by Didier Schraenen and Olivier Bedard.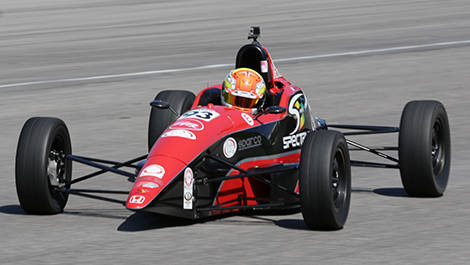 Tristan DeGrand. (Photo: Philippe Champoux)
In Race 2, Olivier Bedard started on pole based on his blistering lap from Race 1 with Duncan Murdoch alongside. The next row had Michel Bonnet in 3rd followed by Race 1 winner Tristan DeGrand.
At the start outside pole sitter Murdoch did get squeezed, allowing Bonnet and DeGrand to sneak by and start to hunt down a hard charging Bedard.
Zacharie Robichon, who started 10th after suffering a failure of the suspension on his car, made his intentions known early and went on a tear right from the drop of the green racing his way up to 4th almost immediately.
For the first half of the race there was a train of cars from the lead to 7th with so much passing back and forth between all of the positions it was almost impossible to follow.
Just past the halfway point the 3rd to 7th place combatants really started to get aggressive with daring passes allowing the lead battle between DeGrand and Bedard to make a 10-car length break. At that point it became a two-horse race.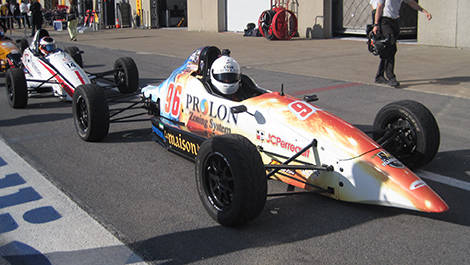 Olivier Bedard. (Photo: Bedard Racing)
DeGrand and Bedard passed each other at least twice a lap to the delight of the cheering fans. With 3 laps to go Bedard slowed suddenly and dropped back to 7th with an ill handling car.
It was discovered after the race that he had a wheel bearing failure making the car almost un-drivable. He would still manage a solid finish to the event.
At the line it was DeGrand, sweeping the event. Zacharie Robichon finished 2nd after starting 10th. Chase Pelletier passed two cars on the last lap to snatch the final step on the podium followed by Bedard and Duncan Murdoch rounding out the top 5.
Next up for the Formula 1600 Super Series will be the Honda Indy Toronto, July 18,19 and 20 at Exhibition Place.