Ferrari officially launched the new
458 Speciale
at the opening of the 2013 Frankfurt Auto Show.
This car is even more powerful than the 458 Italia thanks to a naturally aspirated, 4.5L V8 engine that produces 597 horsepower. In fact, it's the most potent V8 ever built by Ferrari. Acceleration from 0-100 km/h takes three seconds.
Tipping the scales at 1,290 kg, the Ferrari 458 Speciale is equipped with moveable front and rear flaps and lateral skirts for aerodynamic efficiency. A new electronics system called Side Slip Angle Control (SSC), developed by Ferrari, helps improve stability control.
The Ferrari 458 Speciale boasts many other technological innovations for the most demanding buyers, who look for an exceptional driving experience.
Pricing and availability have not been announced.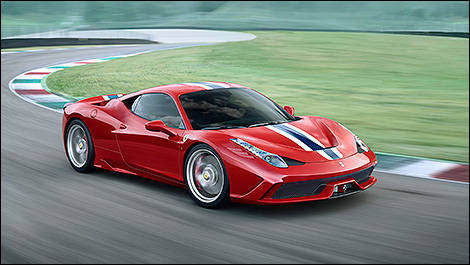 Photo: Ferrari