From Ferrari
With the 2014 title already in the bag, Canadian teenager Lance Stroll ended the sixth and penultimate round of the Italian Formula 4 championship with two third places.
The fifteen-year-old from Montreal, racing for the Prema Powerteam began his weekend with a very closely contested race, which he actually led for several laps. Towards the end, he lost out in the usual slipstreaming battle, but Stroll still managed to come home third.
The last step of the podium also awaited him come the end of Race 2, in a contest in which lack of top speed meant he had to drive defensively on the long straights of the Monza track.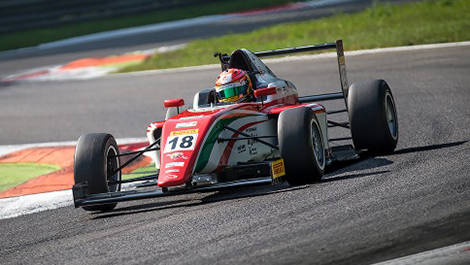 Lance Stroll, Monza (Photo: Ferrari.com)
The third and final race of the weekend was definitely less successful, with Stroll only completing a few metres. As the lights went out, Stroll drove into another car, trying to avoid another that was very slow off the line. The damage to his car was enough to put him out of the race without completing a single lap.
The points' table sees Stroll, the 2014 champion and a member of the Ferrari Driver Development programme, now on 331 points, ahead of Mattia Drudi who is up to 194.