Exclusive Autosport drivers Thomas McGregor and Tristan De Grand traded places between the two Formula Tour 1600 races presented this past weekend in Mont-Tremblant, but the result stayed the same for their team: a 1-2 finish on each occasion.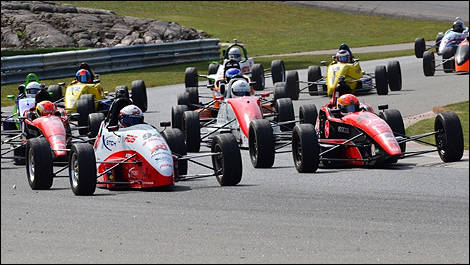 Starting grid, Mont-Tremblant (Photo: PhotoF1.com)
McGregor led the field in Saturday's dry contest, leaving De Grand to finish second. But on Sunday, De Grand took his revenge, as he won by over 40 seconds over his teammate.
Nobody could beat the Spectrum-Honda drivers in the races, but in qualifying, Didier Schraenen, from Saint-Hilaire, had the edge with two pole positions. Even though he finished only fifth Saturday, rookie Olivier Bédard posted the fastest lap in the race.
Duncan Murdoch finished third on Saturday. Schraenen accomplished the same feat Sunday.
In the championship standings, McGregor leads Schraenen by 37 points.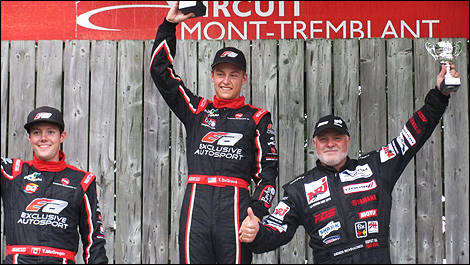 From left to right: Thomas McGregor, Tristan De Grand and Didier Schraenen. (Photo: D.R.)