GM's Boutique Engine Factory Running at Over 120 Percent Capacity



Of all the engine factories in GM's portfolio, all over the world, this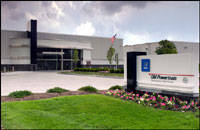 GM's Powertrain Build facility is located in Wixom, Michigan. (Photo: GM Canada)

is the coolest. No it's not entirely run by chrome robots in a synchronized mechanical ballet; quite the opposite, in fact. This factory floor actually sports more humans than robots, though there is no shortage of computers. However, only 58 people work here, and even the second in command in the hierarchy takes his turn mopping up at the end of the day. Okay, maybe he doesn't do the cleaning but Jeffrey Stafford, who officially goes by Assistant Superintendent, does everything from guiding us journalists through on a tour to overseeing line process changes and inspecting certain stages of the build process. The public relations representative is a master builder of 26 years experience, all with GM. In other words, this ain't your average engine factory.

With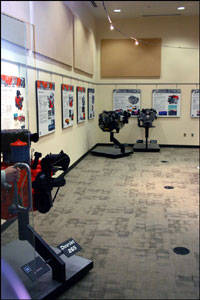 GM Powertrain takes its history seriously: shown here is a mini-museum charting the history and the horsepower of the small-block V8. (Photo: Jonathan Yarkony, Canadian Auto Press)

GM's desire to reclaim their status as a builder of legendary cars, they felt it necessary to create an assembly operation that would be dedicated to perfecting the engines that would bear the GM standard around the world. Before starting, they toured the assembly locations of some other famed engines, in North America and abroad, and they cite Mercedes-Benz's AMG division as an inspiration, with their dedication to craftsmanship and the relationship of one builder assembling an engine from start to finish; block and individual parts to final super powerhouse. The cars GM pinpointed for such master treatment were the Corvette Z06 and various Cadillac V-Series models, cars that ignite the senses of their drivers and the passions of fanatics all over the world.

And the fanatics are loving it. The line building V-series engines has to work at over 140 percent capacity in order to meet the insatiable demand, while those working on the Corvette mill run at about 120 percent, and dealers still can't get enough to fill all their orders. In fact, they probably never will, because GM might just want to keep the Z06 and V-cars rare enough that supply never eclipses demand, further enhancing its legend; an exclusivity that is typical for the rarest, most sought-after supercars.

This is the birthplace of LS7s and LC3s, and the only place in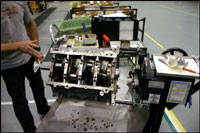 The Chevrolet Corvette Z06's LS7 starts life was a honking big engine block. (Photo: Jonathan Yarkony, Canadian Auto Press)

the world that they're built. For those not familiar with GM engine coding, the LS7 is the prima donna running the Corvette Z06 and the LC3 can be found in the bay of Cadillac's elder V-twins,
XLR-V
and STS-V. Want some numbers? Here goes: LS7 makes 505 hp at 6,300 rpm, 470 lb-ft of torque at 4,800 rpm, all numbers SAE certified. So in a 1,420-kg (3,130-lb), fibreglass-bodied 'Vette, it's good for 100 km/h in three and a half seconds, in first gear. That's kinda' fast. Kinda' fast like a meteor. Luckily it has seatbelts, unlike a meteor--and it also doesn't burn up in the atmosphere.