If you plan to buy a GMC Acadia, Buick Enclave or Chevrolet Traverse in the next few years and hope that General Motors takes a page from the Equinox and Terrain to update its large crossovers, this report will disappoint you.
According to GM Inside News, a full redesign on the Lambda platform (which underpins all three models) is not expected until the 2016 model year. In the meantime, only minor changes will be made.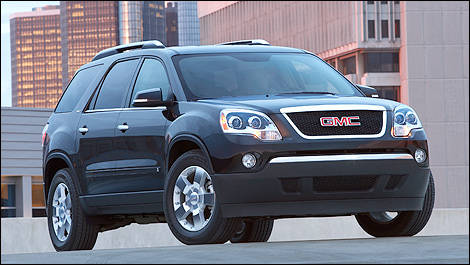 Photo: GMC Acadia/General Motors
For the 2013 model year, expect to see the new infotainment system GM has been developing lately – called MyLink under the Chevrolet brand and IntelliLink for GMC and Buick.
Moreover, material quality will likely improve in all three crossovers, whose interiors have been a notorious sticking point with the automotive media in recent years.
Launched in 2006 as a 2007 model, the Acadia still stands out from the competition despite receiving very few upgrades, but a fresh new design would do much good as it strives to increase its market share.
As for the Enclave and Traverse, introduced for the 2008 and 2009 model years, respectively, they too could use some key enhancements to get on par with the completely-redesigned Ford Explorer and the like.
Unfortunately, the whole restructuring plan at GM, including the termination of Pontiac and Saturn, as well as the automaker's bankruptcy and subsequent comeback, have delayed changes to the Lambda crossovers.
GM Inside News also reports that the Acadia will downsize for 2016, which probably means pending changes for the Terrain crossover as well.
Source :
GM Inside News
via
The Car Connection