From press release
A Ferrari junior driver has beaten a McLaren junior driver in Spa-Francorchamps.
19-year-old Raffaele Marciello has claimed a long overdue debut win in sodden conditions in today's GP2 feature race. The Italian, who is a member of the Ferrari Driver Academy, survived a tough opposition from McLaren prospect Stoffel Vandoorne.
The Belgian started his home race from pole position, but Marciello went two laps further before pitting. With fresher tires, he was able to put pressure on Vandoorne, and eventually overtake him with three laps to go.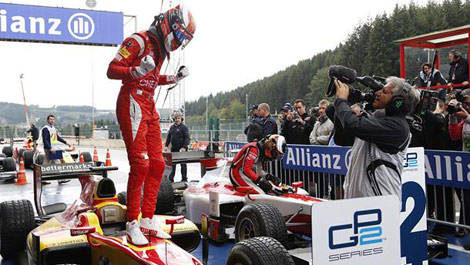 Photo: GP2Series.com
Marciello had built a 2-second advantage by the time the checkered flag dropped.
"I'm really happy to win this race especially here in Spa and in very difficult conditions," he said.
"Me and Stoffel deserved to finish ahead because we were really fast. The car was really good to drive. After the pit stop we had a very big lead on the rest of the field."