McLaren's director of racing Eric Boullier said he truly enjoyed the action-packed Belgian Grand Prix and has backed Kevin Magnussen over his aggressive driving against Fernando Alonso.
During the closing moments of the race, Magnussen and Alonso fought hard while overtaking lapped traffic.
The Ferrari and the McLaren took the slipstream of a Caterham. Alonso tried to pass the McLaren, dropping two wheels into the grass at more than 300 km/h
"Then there was a little bit of action in the next corners," said Alonso.
Magnussen was penalised for his action. The Dane was handed a 20-second penalty, which relegated from sixth position to 12th overall.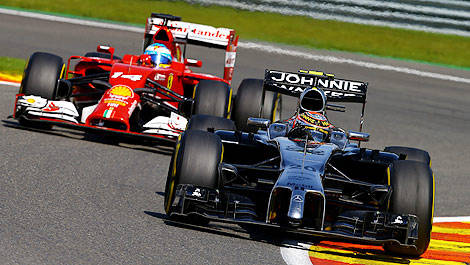 Kevin Magnussen (McLaren) and Fernando Alonso (Ferrari) at Spa. (Photo: WRi2)
However, Boullier defended Magnussen's aggressive driving, saying that F1 should be embracing such exciting battles at a time when some are complaining the sport is boring.
"I love it. This is racing," Boullier told
Autosport
magazine. "It is all what we are talking about, and I think we had an incident-packed race, so it was a great race."
Eric Boullier says Kevin Magnussen is driving very well now.
"Obviously it is part of the experience he is gaining over the season," Boullier explained. "He is very motivated.
"He is new to the category and it is nice to see the big boys a pushing a little bit to show him 'stay behind, kid'. It is part of the learning process, so it is good.
"I think it is not easy to step into F1, especially with a top team. There is a lot of pressure in delivering when there is no more testing. It is not easy," Eric Boullier declared.