From press release
Chase Pelletier arrived in Trois-Rivières trailing Tristan DeGrand by 100 points in the Super Series Championship. He needs a perfect weekend and some misfortune to strike the leader and to have any hope at grabbing the inaugural Super Series crown.
He paced practice and grabbed the pole position so he is most certainly doing his part.
In an incredibly exciting session the pace was set early by veteran competitor Michel Bonnet, last year's winner of both races. He only managed to make two laps in anger but his time was good enough to hang on to the top spot until very late in the session.
Bonnet made a slight mistake entering the Duplessis section of the course and barely touched the inside wall but the damage was significant enough that he would watch the rest of the session from the pit lane.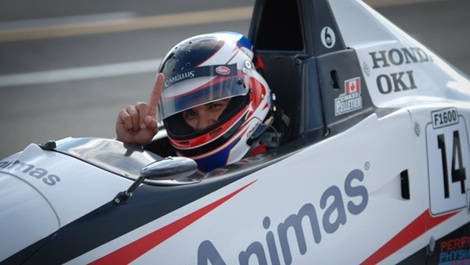 Chase Pelletier (Photo: Formula1600.com)
DeGrand and Pelletier moved past the fast time of Bonnet near the end of qualifying, trading top spot back and forth. In the end, Pelletier would post a time of 1:11.834 on lap 18 to DeGrand's 1:11.916, keeping his goal of mounting pressure on the young American and his dream of a Super Series Championship alive.
Michel Bonnet's time was still good enough for 3rd, where he will start ahead of veteran Didier Schraenen and Marc Cardin. Young Quebec hard-charger Olivier Bedard will start 6th with Sergio Pasian, Max Hanratty, Duncan Murdoch and Jayson Clunie rounding out the top 10.
In a change from most weekends both races will be run on the Saturday, adding to the pressure of having a good finish in the first race.  The green flag for Race 1 will drop at 10:00 am and Race 2 at 3:45 pm.