From press release
With two intensive days of testing, BMW works driver Alessandro Zanardi and ROAL Motorsport continued their preparations for the 2014 season.
This week (March 11-12) they took part in the official test days for the Blancpain GT Series at Circuit Paul Ricard in southern France.
The Blancpain GT Series consists of two championships, the Blancpain Sprint Series and the Blancpain Endurance Series.
The official test days offered the first opportunity for Zanardi to share the track with his competitors in the 2014 Blancpain Sprint Series.
In this championship the BMW works driver, who had both his legs amputated, will contest his comeback season with a specially modified BMW Z4 GT3 entered by ROAL Motorsport.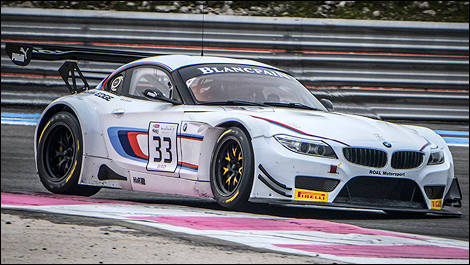 Alessandro Zanardi, BMW Z4 GT3 (Photo: BMW Motorsport)
The ROAL Motorsport team worked on further optimising the modifications made to the car for Zanardi's needs. Among others, they worked on the mapping of the special clutch and on the special brake pedal.
In addition, the squad used the two days to intensively work on setting up the BMW Z4 GT3, evaluating set-up solutions for qualifying as well as setting the car up for long race distances. In doing so, Zanardi completed successful long-runs on both days.
"Things are going well. But I have to say that for sure it won't be easy", Zanardi said.
"I was expecting the challenge to be hard, but now I know that this, in fact, will be the case because in the Blancpain Sprint Series I am going to face an opposition of very fast and young drivers. Nevertheless I think we can be there and that we can do well, but for sure we still have to make improvements. In terms of the race pace we are already very close to where we are supposed to be. We are fast on worn tires, but we still have to find a way to balance the car better with new tires, in order to put together one good flying lap in qualifying. After this test we will look at all the data we have collected, and I am sure we will be able to learn a lot from what we did in the past two days."