The Porsche 919 Hybrid LMP1 set the fastest time overall in the first day of the World Endurance Championship pre-season tests at Circuit Paul-Ricard in France.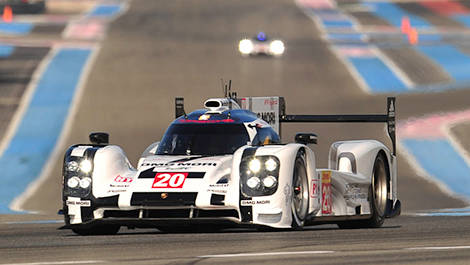 Porsche 919 Hybrid (Photo: Pascal SAIVET - VSA)
T
imo Behrnard went quickest in the Porsche, beating Andre Lotterer in the Audi R18 e-tron quattro and Marc Lieb in the second Porsche.
The new Toyota TS040s ranked fourth and sixth, while the second Audi finished the day in 5th place.
1 - Timo Behrnard (Porsche 919) - Porsche - 1m41.788
2 - Andre Lotterer (Audi R18) - Audi - 1m42.73
3 - Marc Lieb (Porsche 919) - Porsche - 1m42.126
4 - Alex Wurz (Toyota TS040) - Toyota - 1m42.356
5 - Loic Duval (Audi R18) - Audi - 1m42.407
6 - Anthony Davidson (Toyota TS040) - Toyota - 1m43.959
7 - Nico Prost (Lola B12/60-Toyota) - Rebellion - 1m44.806
8 - Fabio Leimer (Lola B12/60-Toyota) - Rebellion - 1m46.915
9 - Shinji Nakano (Oreca 03-Nissan) - Millennium - 1m48.970
10 - Oliver Pla (Morgan-Nissan) - OAK - 1m49.084
11 - John Martin (Oreca 03-Nissan) - Millennium - 1m49.432
12 - Matt Howson (Oreca 03-Nissan) - KCMG - 1m49.722
13 - Nicolas Minassian (Oreca 03-Nissan) - SMP - 1m49.796
14 - Kirill Ladygin (Oreca 03-Nissan) - SMP - 1m50.321
15 - Marco Holzer (Porsche 991) - Manthey - 1m58.041
16 - Davide Rigon (Ferrari 458) - AF Corse - 1m58.277
17 - Paolo Ruberti (Ferrari 458) - 8Star - 1m58.507
18 - Michele Rugolo (Ferrari 458) - AF Corse - 1m58.545
19 - Matt Griffin (Ferrari 458) - Ram - 1m58.679
20 - Klaus Bachler (Porsche 997) - Proton - 1m59.055
21 - Alex MacDowall (Aston Martin Vantage) - Bamboo - 1m59.076
22 - Mark Patterson (Ferrari 458) - Ram - 1m59.258
23 - Luis Perez-Companc (Ferrari 458) - AF Corse - 1m59.419
24 - Nicki Thiim (Aston Martin Vantage) - Aston Martin - 1m59.457