Jacques Villeneuve will join City Challenge GT in Baku, Azerbaidjan, driving an Porsche 911 GT3 R.
The canadian driver, who took part to several NASCAR Nationwide events this season, and who is about to race a V8 championship event in Australia, will be at the start of a GT race for the first time in his career.
Villeneuve's team mate will be an other former F1 driver, Jos Verstappen. Some prestigious GT drivers such as Michael Bartels or Matteo Bobbi will take part to the event.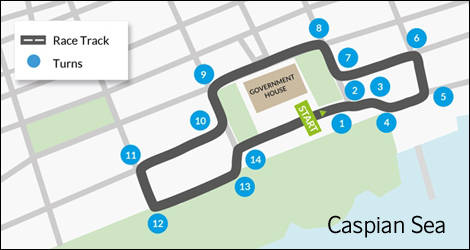 City Challenge GT, Baku, Azerbaidjan.
With a population of around nine millions, Azerbaidjan was founded after Soviet Union collapsed. It is located in the Caucasus Region, near the Caspian Sea, between Turkey, Iran and Russia. The race, presented from 5th to 7th october, will be the first main motorsport event held in the country.
"GT racing will be an entirely new experience for me, which I am really looking forward to," Villeneuve said. "Racing on a street circuit is always something special, as I know from such events I have raced in before, mainly in the US."
"I have never been in Baku or Azerbaijan before, so that is something new, too. From what I have read and heard about the city, there is a lot of development going on. Of course, there is not much of a motor racing tradition there, so seeing race cars on the streets will be a new experience for the local people."