Belgian Audi Club Team WRT drivers Laurens Vanthoor and Stéphane Ortelli won this weekend's Baku World Challenge race, the finale of the 2013 FIA GT championship.
The pair's performance in the streets of the Azerbaijani capital also earned them the FIA GT title.
"When the team told me over the radio that I was leading the race, I was thinking that they were making a joke," admitted 22-year-old Vanthoor.
"My aim was (just) to bring the car home in one piece, as it was easy to make mistakes," the Belgian, who had not won a major title since topping the German F3 championship in 2009, added.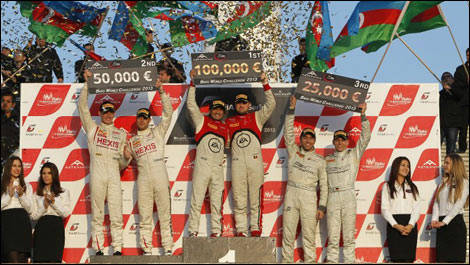 Podium in Baku (Photo: FIAGTSeries.com)
"It feels so fantastic!"
Vanthoor and Ortelli's WRT teammates René Rast and Niki Mayr-Melnhof helped secure the teams' championship with a win of their own in qualifying.
Alvaro Parente and Sébastien Loeb, of Loeb Racing, finished fourth.
McLaren protege Stoffel Vandoorne failed to reach the finish, sharing a McLaren MP4-12C with countryman Frédéric Vervisch.