A new brand of tires is gradually making its way onto the Canadian market. GT Radial, from Asian manufactured GITI Tire, targets consumers after modern, affordable products.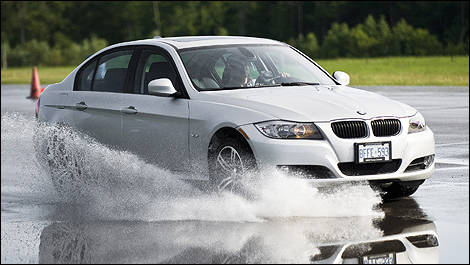 The GT Radial Champiro HPY ultra-high-performance tires on this car are produced by GITI Tire, a major Asia manufacturer. (Photo: Gt Radial)
The executives of GITI Tire Canada introduced their company to the media, distributors and tire retailers during a special event held in Quebec City last winter.
A giant in the works
GT Radial is the leading brand of GITI Tire, a world-class tire manufacturer based in Singapore, Indonesia. Established in 1951 as Gajah Tunggal, it now proves to be the largest tire manufacturer in Asia and 14th-largest in the world.
In 2009, GITI Tire produced about 13 percent of all tires sold in China, or nearly 17 million. The same year, the company exported an additional 15 million tires in over 100 countries around the globe.
The tires are manufactured in seven factories located in China and Indonesia. All are ISO certified and combine to employ roughly 1,200 people. There's also a research and development centre as well as two proving grounds in China and the United Kingdom, the latter being integrated to the MIRA research complex.
GT Radial products range from small car tires to ultra-high-performance tires. They can be fitted to SUVs, pickups, ATVs, buses and heavyweight trucks as well.
Moreover, GITI Tire happens to be the largest OEM supplier for the major Chinese automakers, including BYD, Chery, JAC and Haima. For a few years now, it has also supplied OEM tires to General Motors and Fiat for a certain number of vehicles built in South America. GM even named it ''Supplier of the Year'' four times since 2005.
Last winter, GITI Tire Canada executives introduced their company to the media, distributors and tire retailers. They showcased two new winter tires, including the GT Radial Champiro WinterPro (left) and IcePro. (Photo: Gt Radial)