The rear-drive performance sedan isn't a favorite mode of transportation with most cold-blooded Canadians travelling in the winter. Often considered 'slippery', 'scary' or 'unstable', many shoppers dealing with snowy roads avoid rear-drive cars in favor of front or all-wheel-driven models.
But RWD can be beautiful to drive in the snow – let alone all year round. More balance, more steering feel, more agility and livelier overall handling are some of the reasons why.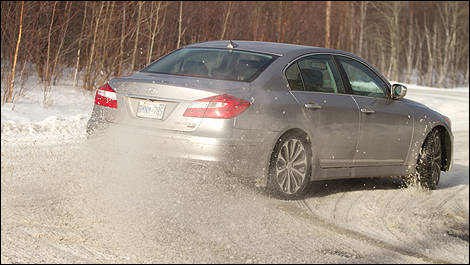 Photo: Justin Pritchard/Auto123.com
These are all attributes delivered, to varying degrees, by the
Hyundai Genesis 5.0 R-Spec
– one of the Korean automaker's latest models which intends to give pricier European and Japanese models a run for their money.
The R-Spec is big, heavy, and has the better part of 429 horsepower attacking its rear wheels. In late fall, your writer was tasked with evaluating this Korean power-sedan's operation over the course of a winter in Northern Ontario.
Assigned to me for use only in nasty weather, the R-Spec spent many days parked in my driveway until heavy snow accumulations called it into action.
Spring has now sprung across Canada – and I've done what many in the Canadian auto marketplace think is seemingly impossible. I survived the winter north of the 'Snow Belt' in a rear-drive, V8-powered sedan.
Driven carefully and operated with appropriate tires, this isn't a car you need to skip if you live in the North. Here are some observations from my 4-month, 6,000-km winter test.
The Genesis's Electronic Stability Control (ESC) system is fast-acting and diligent. There's no worrying about how softly to apply the throttle on snow and ice – as even a slight amount of wheelspin numbs the throttle and reduces power output. Enough slippage is permitted to get moving through deeper snow at low speeds, though during cruising, even slight losses of traction are detected and neutralized instantly. Often times, the 'ESC' indicator illuminates in the cluster before drivers even realize they've lost traction.
Smooth performance is the name of the R-Spec's game. World-class levels of quiet and refinement are present here. Even when cruising through snow gently, or spinning the wheels to clear the snow-plow hump at the end of a driveway, minimal noise or harshness are transmitted to the cabin. And since the R-Spec is comfortable and quiet, it's an easy car to operate in a state of elevated relaxation when required by nasty weather.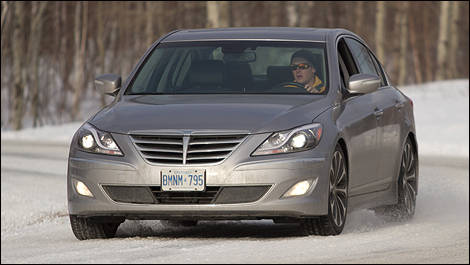 Photo: Justin Pritchard/Auto123.com
I managed to get the R-Spec stuck twice. Both times involved fairly deep snow left behind by snowplows, combined with too low a speed to escape them. A little shoveling and a few handfuls of sand were sufficient to free the car. Many front-wheel drive vehicles would have gotten similarly 'hung up' in the same situation – though Genesis drivers are advised to exercise a little caution in placement of their rear wheels when parking in deep snow, especially on an upward incline.
Decades ago, older rear-drive cars were front-heavy, more frightening and more 'slippery' in the snow. Nowadays, rear-drive cars have a weight balance closer to 50/50, meaning more weight and traction at the rear end. The Genesis R-Spec is one such car.
The washer-fluid reservoir readily accepts a full jug of windshield juice.
Winter tires were fitted to the tester. Potential shoppers are advised strongly to invest in a set. My favorites include Pirelli Sottozero and Michelin X-Ice. A good winter tire will give all electronic aid systems more traction to work with, dramatically increasing overall performance and safety. A fellow Genesis owner I met at the local gas station complained of low traction in his 2011 Genesis V6, though he was using all-season rubber.
The 5.0L V8 heats up relatively quickly, providing cabin heat in 2 or 3 minutes even in extreme cold. High-visibility LED taillights cut through snow and fog easily as well, as do the xenon projectors up front. I did wish for a headlight washer system, though. Heated seats are powerful, and the heated steering wheel was a welcomed touch.
The ESC system is fully defeatable with a single button press, should owners wish to partake in a little donut action on a frozen lake or empty parking lot. Just saying.