Model:
Honda Ridgeline : Used
Vehicle Type:
Pickup Truck
The Verdict:
The Ridgeline's functionality, confidence, room, and flexibility seem to be its most appealing attributes, and common issues should be easily identified in a pre-purchase inspection, if present. With a mechanical thumbs-up, you'll likely enjoy an incredibly handy and versatile pickup truck for years to come.
Price of the Used Honda Ridgeline:
Earlier, higher-mileage units can be had from about $9,000, with newer, immaculate, low-mileage units commanding over $40,000. There's plenty of selection between $20,000 and $30,000.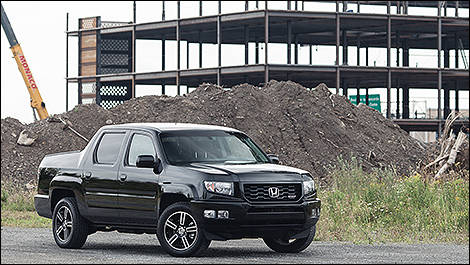 Photo: Sébastien D'Amour
History/Description:
Though it likely won't haul a skid of roofing shingles to a jobsite or climb the side of a mountain, the Honda Ridgeline earned a loyal following by offering functionality to meet the needs of light-duty pickup shoppers who also needed a highly functional and flexible vehicle for day-to-day use.
It's an ideal vehicle for family hauling, camping, pet transportation or anyone interested in outdoor sports thanks to a clever, flexible design ideology that manifested itself in the form of an incredibly practical interior, generous on-board room, and the famous under-bed trunk. Furthermore, the Ridgeline's tailgate opens out, like a door or downwards, like a tailgate, too.
Clever, thoughtful touches like these make the Ridgeline well suited to a variety of active shoppers.
Available options included heated leather seats, a rearview mirror with compass, automatic climate control and a HomeLink universal garage door opener. If you frequently tow with your Ridgeline, be sure to check out the backup camera that adds a degree of security and makes it easier to hook up a trailer when you're alone. Travellers will also appreciate the DVD-based navigation system, Bluetooth phone interface, and more.
The Honda Ridgeline came just one way in the powertrain department: with a 3.5L V-TEC V6 engine, automatic transmission, and automatic four-wheel drive with a driver-selectable locking mode.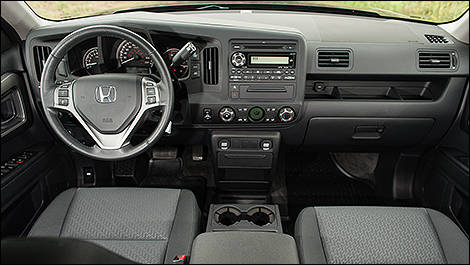 Photo: Sébastien D'Amour
What Owners Like:
Honda Ridgeline shoppers typically rave about unbeatable flexibility, great wintertime traction, relatively capable off-road performance for light to moderate trails, and a car-like driving experience. Plenty of interior space, a commanding driving position, and relatively easy entry and exit round out the package.
What Owners Dislike About The Used Honda Ridgeline:
Complaints include limited all-around visibility, which is partially impeded by thick door pillars. Many owners wish for better fuel mileage and a longer rear box, saying that an accessory bed extender is needed to transport longer items in the back of the Ridgeline.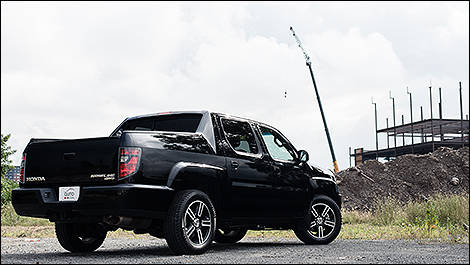 Photo: Sébastien D'Amour
Common Issues:
Engage the Honda Ridgeline's VTM-4 LOCK mode (which locks the 4x4 system for added traction) to ensure the indicator lights up quickly and that no blinking lights or warning messages are displayed. Do this several times to be sure the system is working properly.
Be absolutely certain to have a mechanic inspect the fittings that connect the radiator to the transmission cooler for signs of a common excessive corrosion issue. A new radiator (or new fittings) may be the solution if the line fittings are badly rusted. If the fittings on the unit you're considering are in good shape, a coating with an appropriate rust inhibitor is advisable to prevent future corrosion. Note that some owners choose to preemptively change their radiator and fittings for extra confidence.
Though not overly common, cracks or failure of the rear differential housing and carrier were reported. Add this to the list of areas you'd like a mechanic to inspect ahead of your purchase, as well as a check for a potentially leaky power steering pump that could cause fluid to drip down to the oil-pan, and beneath it.
Vibrations or a "shaking" sensation felt while cruising at speed or accelerating could be caused by a variety of issues, including improperly torqued lug nuts, bad CV joints, axles or even the electronic throttle control system. If you notice any of the above, seek a mechanic's advice.
Finally, flip the Ridgeline's rear seats up into their storage position, ensuring the bars which support the seats against the floor fold themselves flush against the bottom of the seat pad as you lift. If not, the pulley system inside the seat is likely broken.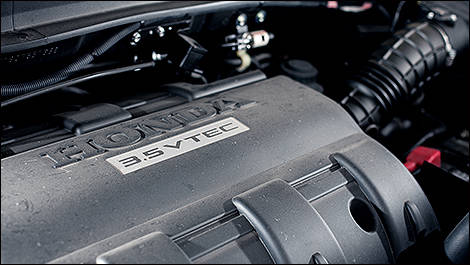 Photo: Sébastien D'Amour
2013 Honda Ridgeline