Bromont, QC --
I love the connection between horsepower and actual horse power. I've experienced it before when I attended the
Kentucky Rolex Event
early last year. This time it was a little closer to home, and on a bit of a different scale, but the atmosphere was the same as was the experience.
Hosted at what was the site of the 1976 Olympic games equestrian events, the Bromont CCI is a prestigious affair that invites future Olympic hopefuls (meaning the best of the best in the horsey world) to compete in a three-day event. It tests both rider and steed in a mélange of skills that include: dressage, cross-country, and finally show jumping.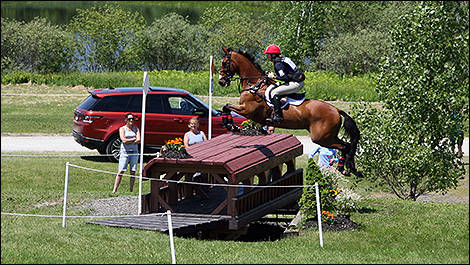 Photo: Lesley Wimbush
Some of the world's top riders were present in Bromont, and the location and grounds were nothing to shake a crop at. As I toured the stables where teams and their faithful, all-around-athlete, horses were kept I managed to ask a few how they felt about the location. From South America to sunny Californian shores, everyone was duly impressed with the grounds and said the Bromont CCI was top-notch (and this on the last day of the five-day total stay).
It wasn't just the grounds and facilities that intrigued the riders and crowds, but also one of the sponsors who were dutifully (and accessibly) on-site the entire time: Land Rover.
With a storied history in equestrian sports, Land Rover is a proud sponsor in a multitude of horse events from supporting the British Eventing Team straight down to the newly added Bromont CCI. Equestrian eventing is a true test for both horse and rider, and requires all-around skill and precision, something Land Rover and Jaguar also believe in very highly when it comes to their brand.
So, how were they present at the Bromont CCI? Well, besides displaying their tenacious little
Evoque
around the cross-country course, as well as a few dead sexy Jaguar F-Type Coupes, they also opened their car doors to the adoring public. All you had to do was walk up to the Land Rover tent sign up on an iPad, and off you'd go behind the wheel of a brand new F-Type Coupe or on a rather impressive and telling off-road course behind the wheel of a
Range Rover Sport
.
You see, equestrian eventing and anything horse-related really can be seen as something quite snobbish. Take it from someone who knows. And for a brand like Land Rover -- one that also caries that stiff-upper-lip, holier-than-thou stereotype -- participating in an event such as this one, but opening their doors to the general public in that way offers them a whole slew of new followers and potential buyers. Their cars aren't just on display and locked. You can touch them; you can hear them and you can drive them. It also helps Land Rover maintain already loyal customers who use an LR4 to trailer the horses, but are looking for a cute little weekend roadster and want to try out the F-Type.
Some marriages are meant to be, and the union between Land Rover and the equestrian world is one I've not seen the likes of in ages. Like Elizabeth and Andrew, Posh and Beckham, Laurel and Hardy, LR and horses just mesh; and this latest coupling in Bromont is just the beginning of another beautiful, long-term relationship.